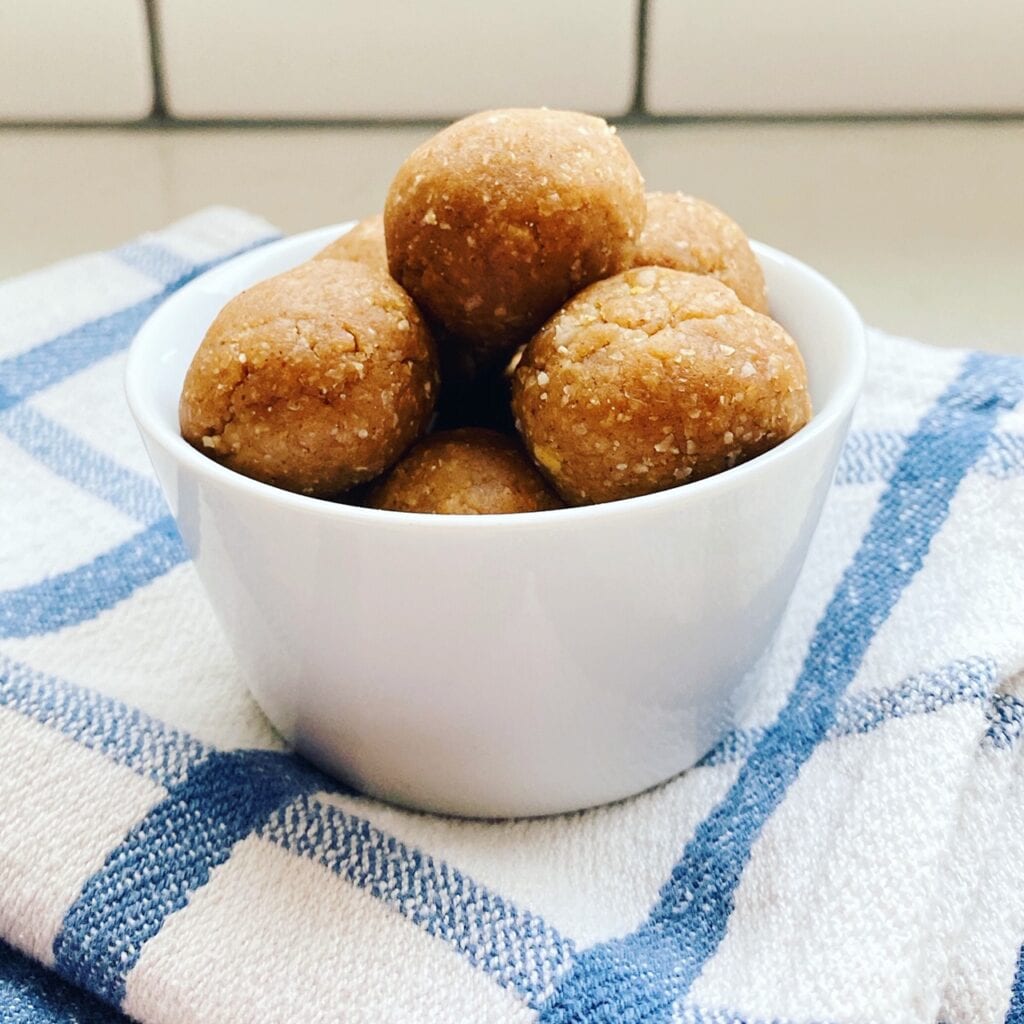 Ingredients
3/4 cup chickpeas (approx 1/2 can)

1/2 cup smooth peanut butter (no sugar, no salt added)

1/4 cup maple syrup (a tad more if you prefer sweeter)

1 tsp cinnamon

1 tsp vanilla extract

1 cup oats (use 1/2 at a time)
Optional twists:
Nut-free: use sunbutter, pumpkin butter, tahini, or a combo instead of peanut butter
1/3 cup mini dark chocolate chips (I omit these, fearing they will dissect the ball just to get the chips!).
1/3 cup shredded coconut (look for unsweetened to keep down the sugar, though can be hard to find)
A pinch of salt
Instructions
Rinse and strain chickpeas and set aside.

Put half of the oats in the blender (1/2 cup) and give it a blitz. You are making your own oat flour!

Add the rest of the ingredients (chickpeas, peanut butter, maple syrup, cinnamon, vanilla). Blend well.

Add the rest of the oats and blend again. The dough should be mostly smooth ball with a bit of chunky oats. If adding choc chips, this is the time!

Form the dough into balls (or flatten into a square dish). If you want add coconut, roll the balls to coat, or sprinkle on top of the flattened bars. Refrigerate for a few hours to firm up (can also be eaten immediately).
Store in fridge (1 week) or freezer (a few months).
Notes
For a smoother texture, blend all of the oats first. I leave some out initially to add more texture – and to make your body do more of the digestion. 
Nutrition
One of twenty "bites" (balls).

Nutritional data should only be viewed as rough estimates. % Daily Values vary with age, weight, and other factors.
Credit
Recipe adapted from Pulses.Org.