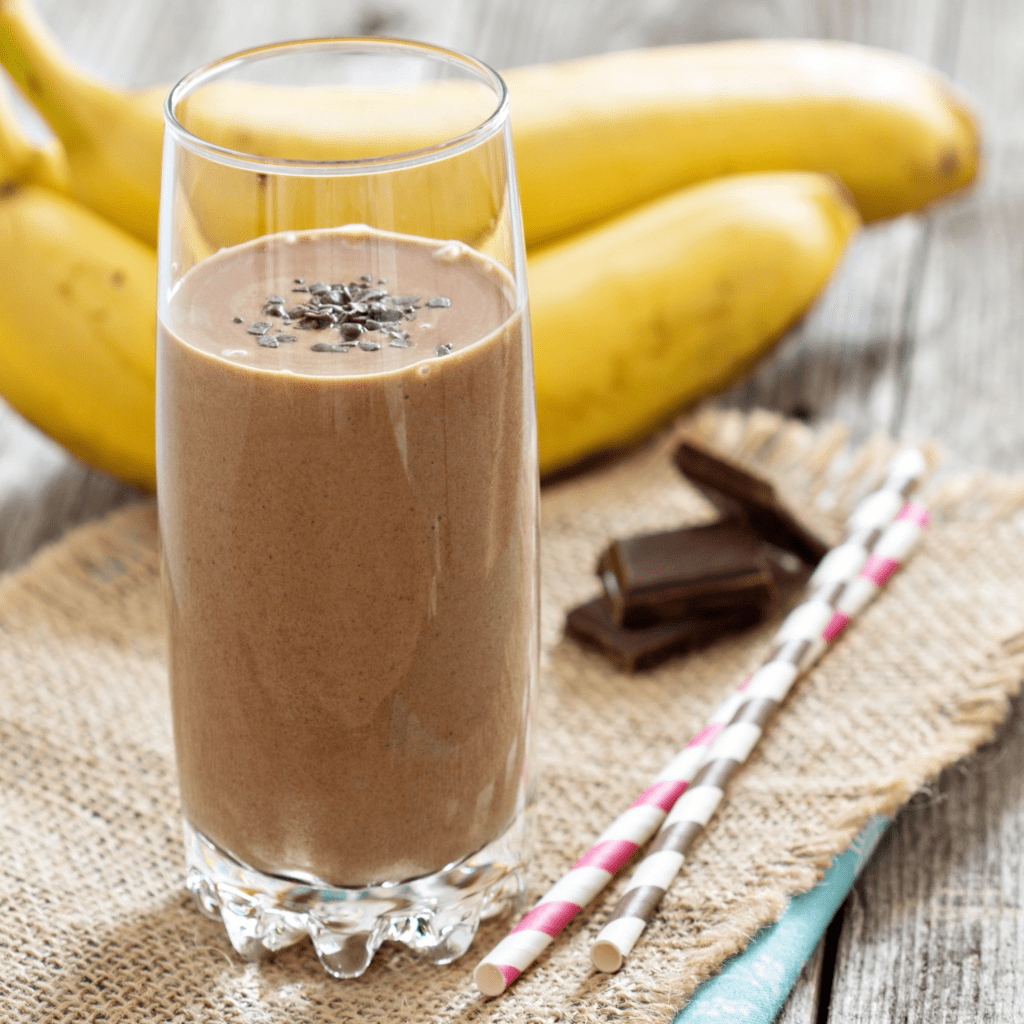 This rich, chocolate banana smoothie will energize and fuel you, without weighing you down. It's one of my go-to recipes when I'm hankering for something decadent yet nutritious, and is hearty enough to be a full meal. My son is also a huge fan – he joyfully devours this smoothie before or after sporting events.
The basic ingredients are simple and 100% plant-based: frozen banana, cocoa powder, peanut butter, and plant-based milk. Together, they deliver healthy fats, protein, and carbs (which are not evil, btw). For an even bigger protein boost, add a scoop of chocolate protein powder.
Note: The full recipe contains about 23 mg of caffeine, from 2 Tbsp cocoa powder. This is about half as much caffeine as you'd find in a cup of black tea or a can of diet Coke, and roughly a third the caffeine content of an espresso shot. This caffeine level is completely safe, even for kids. But, for people that are sensitive to caffeine, it's worth being aware of a possible caffeine response for several hours, and consuming earlier in the day. To learn more about caffeine, read my article on safe caffeine intake, and check out Caffeine Informer. 
INGREDIENTS
1 large serving or 2 small servings
1.5 to 2 cups plant-based milk depending on desired thickness (I like unsweetened Silk soy milk)
1 ripe banana (frozen)
2 Tbsp cocoa powder
2 Tbsp peanut butter (I look for 100% roasted peanuts – no salt or sugar)
Optional 'boosts'
1 scoop protein powder (I like Vega's vegan chocolate smoothie powder)
Chocolate chips or cocoa nibs: add 1-2 Tbsp into the smoothie or sprinkle on top for extra pizzaz and crunch
Extra sweetener to taste (maple syrup is our go-to).
INSTRUCTIONS
Put everything (banana, milk, cocoa powder, peanut butter) in a high-powered blender and blend until smooth. Consider starting with 1.5 cups of milk and adding more depending on desired thickness.
Taste and add a touch of sweetener (try maple syrup) if desired. In my experience, no additional sweetener is needed if bananas are ripe, and/or if not using unsweetened milk.
TIPS
Keep a stash of well-ripened banana chunks in the freezer for smoothie cravings. Peel first then place in freezable container.
NUTRITION
Per recipe (1 large or 2 small servings) – using 2 cups of unsweetened Silk soy milk

The Percent Daily Values are based on a 2,000 calorie diet, so your values may change depending on your calorie needs. The values here may not be 100% accurate because the recipes have not been professionally evaluated nor have they been evaluated by the U.S. FDA. They often do not apply to children.