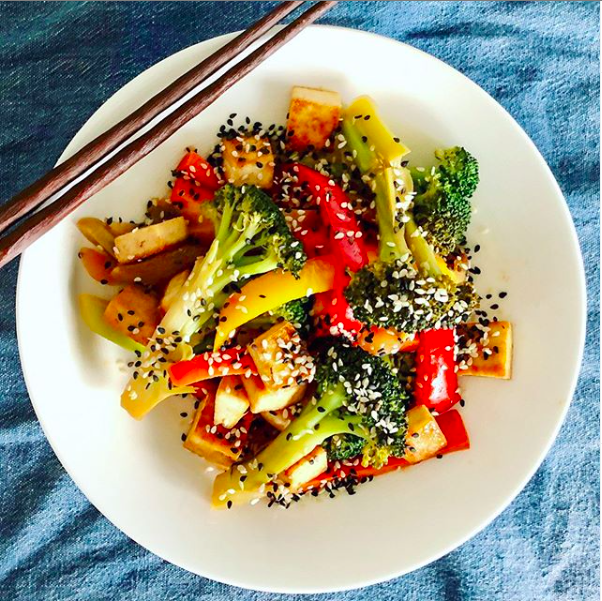 This scrumptious tofu veggie stir fry will have you and the kids eating the rainbow with gusto. 
I could eat veggies all day long, but for my kids, a hint of sweetness can make the difference between having to nudge them versus sitting back while they tuck in. As they say – a spoonful of sugar helps the medicine go down!
Why eat the rainbow? It's not just visually inviting, but is also a nutritional win. Choosing a variety of fruits and veggies supports your gut health by fueling your gut microbiome (fiber is the best prebiotic) and helps you cover your nutritional bases. Brightly coloured veggies are also rich sources of potentially beneficial compounds called phytonutrients (e.g. orange => beta carotene; red=> lycopene; blue & purple => anthocyanins).
This dish knocks your vitamin A and C out of the park, and comes in strong on calcium and iron (thanks in large part to the sesame seeds).
Note: The sodium content of this recipe is on the high side so be sure to use reduced-sodium soy sauce.
Enjoy solo or alongside your favourite whole grain (we favour quinoa or brown rice).
Ingredients
Makes about 5 servings (2 adults & 3 kids)
Sensational Stir Fry Sauce
1/4 cup soy sauce (reduced sodium)
3 Tbsp hoisin sauce (a standard Chinese condiment – buy it or make it yourself.).
2 cloves garlic
1 tsp fresh ginger
1 tsp sugar (optional)
Rainbow Veggie Mix
3 bell peppers (1 red, 1 orange, 1 yellow)
2 medium carrots
1 head broccoli (2-3 cups of florets)
1/2 yellow onion
1-2 Tbsp frying oil (we use canola – yes, you read that right..but avocado works too as long as it's refined. Get my take on canola oil here)
2-3 Tbsp sesame seeds to finish (~ 1/2 Tbsp per serving)
2 tsp sesame oil (optional)
Golden Tofu
1 block extra firm tofu
1 Tbsp olive oil (for frying)
Instructions
1. Press tofu. Rinse with water, wrap with paper towel and place under something heavy. Even a short press helps the tofu absorb more sauce.
2. Prep veggies, garlic & ginger. Chop veggies into generous bite size chunks (bell pepper, broccoli, carrot, onion). Mince garlic and ginger.
3. Prepare sauce. In a small bowl or jar, mix together soy sauce, hoisin, garlic, ginger and (optional) sugar.
4. Prepare tofu. Cut the pressed tofu into cubes (approx 1-2 cm). In a wok or large frying pan, warm 1 Tbsp oil. Add the tofu. Let it brown on one side (2-3 minutes), then toss and let other sides brown a bit (2-3 more min). Set the tofu aside to add later (without damaging from over-mixing).
5. Stir fry the veggies. In large pan or wok on medium-high heat, warm 1-2 Tbsp oil. Add chopped veggies: onion, carrot, bell pepper, and broccoli. Mix well and stir for a few minutes until they begin to soften  (3~ 5 minutes).  Add the tofu; then the sauce, mixing well and cooking for another 2-3 minutes.
6. Garnish and serve. Serve solo or atop your favourite grain or noodle. I highly recommend a generous sprinkling of sesame seeds, which adds nutrition and flair. A dash of sesame oil can add extra depth, and is best added once the high-heat cooking is done.
Nutrition
Includes sauce, veggies, tofu and sesame seeds.

Nutritional data should only be viewed as rough estimates. % Daily Values vary with age, weight, and other factors.
Credit
Recipe created and executed by our supernanny, Paula.