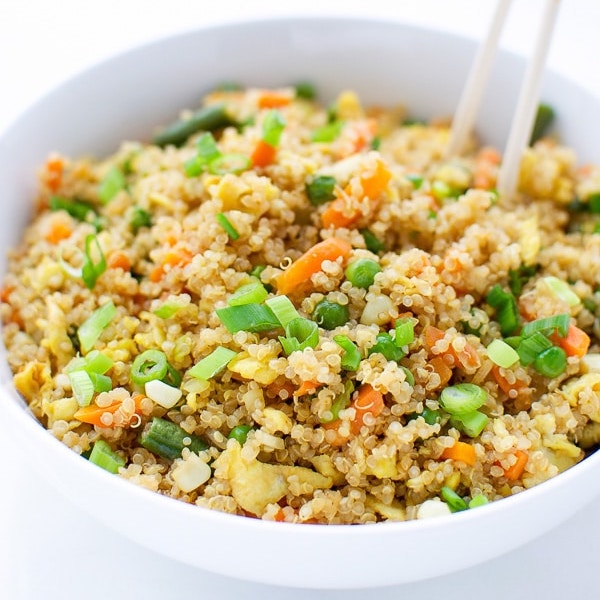 My family's love for quinoa inspired me to create a quinoa version of our Family Fried Rice. It was a success!
This dish is simple to make and has everything you need for a full meal – protein , fat, slow carbs, fiber, and yum!. To keep it plant-based we use crumbled tofu instead of eggs but it's also just dandy without either. Big kids like myself may want to add a side of sautéed broccoli or green beans, or a tofu "steak" (with a hint of garlic and soy sauce).
This dish is (nearly) foolproof and has so many possible variations. Other great veggie options include frozen, shelled edamame, green beans, broccoli, bell pepper and corn. If you're hankering for more protein, be sure to include the tofu, and consider some shelled edamame as well. I've also seen a few recipes that thrown in cashews or pineapple but never tried it. Sounds tempting…

Quinoa is a fabulous alternative to rice and offers some nutritional advantages such as more protein, more fiber, a better blood sugar response, and more iron. The vegetable oils pitch in your unsaturated fats, while the quinoa and veggies pair up to provide fiber and long-lasting carbs. Keep the sodium levels in check by using a modest amount of low-sodium soy sauce. Optional crumbled tofu takes the protein up another notch and adds a bit of texture.
INGREDIENTS
1 cup quinoa (measure uncooked) – we usually use white.
1 large carrot (grated)
1 celery stick (minced)
1/2 c yellow onion (minced)
1 cup frozen peas (thawed)
3 cloves of garlic (minced)
1 tsp fresh ginger (minced / grated)
2 Tbsp vegetable oil (e.g. canola)
2-3 Tbsp soy sauce (reduced sodium ideally)
Optional: 1/2 block tofu (we like firm)
Optional: green onion to garnish
PREP
Cook quinoa as directed (takes about 15 min). Then set aside to cool. Be sure to keep the heat very low during simmer to avoid burning.
Mince / grate all the ingredients.
If using tofu, rinse and blot as dry as possible with paper towels. Squeeze a bit to get extra liquid out.
COOK
Heat oil in a large saucepan on medium heat. Add garlic, ginger and onion. Avoid letting garlic get too brown. Cook for 2-3 min.
Add the carrots and peas, mix well.
If using tofu, you can "hide" it by crumbling with your fingers or fully embrace it and chop into small pieces.
Cook for another 5-6 minutes. Veggies should be still firm.
Fluff the cooled quinoa, then add and mix well. Finally,
add the soy sauce and give the masterpiece a final stir.
NUTRITION


The Percent Daily Values are based on a 2,000 calorie diet, so your values may change depending on your calorie needs. The values here may not be 100% accurate because the recipes have not been professionally evaluated nor have they been evaluated by the U.S. FDA. They often do not apply to children.
Photo Credit to Cooking LSL