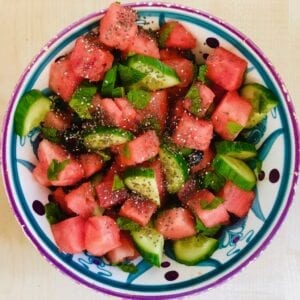 Biting into a juicy, fresh, seasonal watermelon is one of the best things about summer. Summer also means a lot of fresh mint growing on our back patio.
This simple, light and bright salad marries these two tastes of summer, along with an extra boost from fresh lime.
Bring this dish to a potluck and you will be popular – or enjoy it at home a summery starter or healthy after-dinner nosh.
Add some of my new fave faux feta, made from tofu and coconut oil, to make it more substantial.
INGREDIENTS
4-5 cups watermelon (one personal or a generous wedge from a mega melon)
1 long english cucumber
2-3 Tbsp lime juice (fresh- squeezed is best)
a few sprigs of fresh mint
1 Tbsp chia seeds (omit if you don't like the texture, but they add a nice nutritional boost).
Optional ingredients
a few sprigs of fresh basil
1/2 cup "faux feta" *Note that this feta ideally needs to chill for a few hours.
a hint of agave syrup
Faux feta
12 oz firm tofu (one block)
5 oz (generous 1/ cup) refined coconut oil (melted) *unrefined is okay but has a hint of coconut taste – I don't mind this added flavour in this recipe
2 Tbsp lemon juice
1 1/2 tbsp apple cider vinegar (or rice vinegar in a pinch)
1-2 tsp salt
1.5 tsp onion powder
DIRECTIONS
Prepare optional faux feta:
Place all ingredients in a blender and puree until extremely smooth. You may need to stop, scrape down the sides and blend some more a few times.
Once completely smooth, place the mixture into a container (e.g. glass tupperware) and seal with a cover. Place in fridge until firm (3-5 hours or overnight). For the purposes of this recipe, it's no big deal if it's not perfectly firm and crumbles a bit.
Prepare the salad
Cut the watermelon into bite-size cubes and place into large serving bowl
Cut the cucumber lengthwise, then slice into thinnish slices; add to bowl.
Chop most of the mint (and optional basil) but leave a few whole leaves for garnish; add to bowl.
Squeeze lime juice into the bowl.
Crumble optional feta on top.
Sprinkle optional chia seeds.
If you want to get really extravagant, add a bit of agave 😉
Serve
Serve immediately, with a bit of added mint or basil garnish, or store in fridge until needed.
NUTRITION
per ~ 1 cup serving

The Percent Daily Values are based on a 2,000 calorie diet, so your values may change depending on your calorie needs. The values here may not be 100% accurate because the recipes have not been professionally evaluated nor have they been evaluated by the U.S. FDA. They often do not apply to children.
Credit