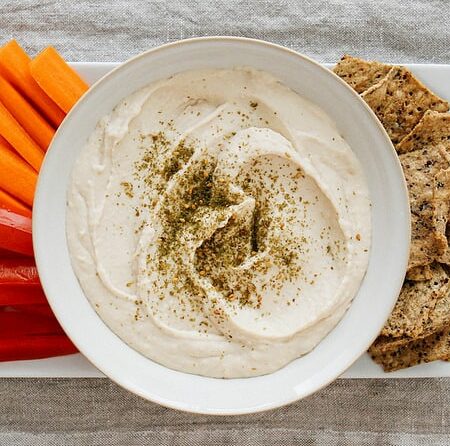 If you've never made your own hummus, you will be pleasantly surprised at how easy it is.
DIY is not only simple and inexpensive, it also gives control freaks like me the opportunity to tune the flavour and nutrient profiles to their liking.
Bonus: Hummus is not just a dip. It can also be used as a sandwich spread, or as a base for salad dressing (add extra lemon and oil).
The basic hummus ingredients are simple: beans (usually chickpeas but in this case white beans), tahini (sesame paste), olive oil, garlic, lemon, salt, herbs and spices (cumin is common). Simply dial up or down each ingredient to make it more or less tangy, garlicky, creamy, and salty.
The options really explode when you layer in herbs and spices and other 'boosts'. I like to experiment with different spreads such as beet balsamic, olive tapenade, or smoked eggplant. My kids are less adventuresome and tend to prefer the basic version – though my son embraces a pesto boost.
Nutritionally, you will be getting a decent source of protein, fiber, and iron. White beans have slightly more protein and fewer carbs per serving, but the difference is not dramatic.
The nutrient profile per serving depends a lot on how much oil you use. In many hummus recipes (including the one below), roughly half the calories from the beans and the rest from the tahini and oil.
So, while pure beans (or chickpeas) come in high at 20% of calories from protein, the overall dish comes in lower at closer to 10% of cals from protein (just on target). This is not to say that a bit of fat is a bad thing. Indeed, I welcome it- especially for my kids.
RECIPE
Ingredients
1 large can cannellini beans (15 oz) (low sodium)
3 Tbsp tahini
1-2 Tbsp extra virgin olive oil *sub some flax oil for an omega-3 boost
3 Tbsp fresh lemon juice (~ 1 large lemon)
2-3 cloves garlic (fresh is best)
1/2 tsp salt
1/2 tsp cumin
2-4 Tbsp cold water (less or more as needed to thin)
Optional 'boosts': za'atar (spice), pesto, olive tapenade, smoked eggplant spread
Directions
Rinse beans well in colander.
Prepare minced garlic, and freshly squeezed lemon juice
Place all ingredients except water in blender or food processor. Blend well (at least 2 min to make it creamy).
Add cold water to achieve desired consistency.
Store any leftovers in the fridge.
Serve
Add your favourite 'boost' (try one serving a time rather than to whole dish).
Serve as a dip (with veggies or pita chips), as a sandwich spread, salad dressing, or pasta salad sauce.
NUTRITION
Per 2 Tbsp serving (1 Tbsp olive oil in recipe)

The Percent Daily Values are based on a 2,000 calorie diet, so your values may change depending on your calorie needs. The values here may not be 100% accurate because the recipes have not been professionally evaluated nor have they been evaluated by the U.S. FDA. They often do not apply to children.
Credit
Recipe is a mashup from Simple Veganista and Ali at Gimme Some Oven