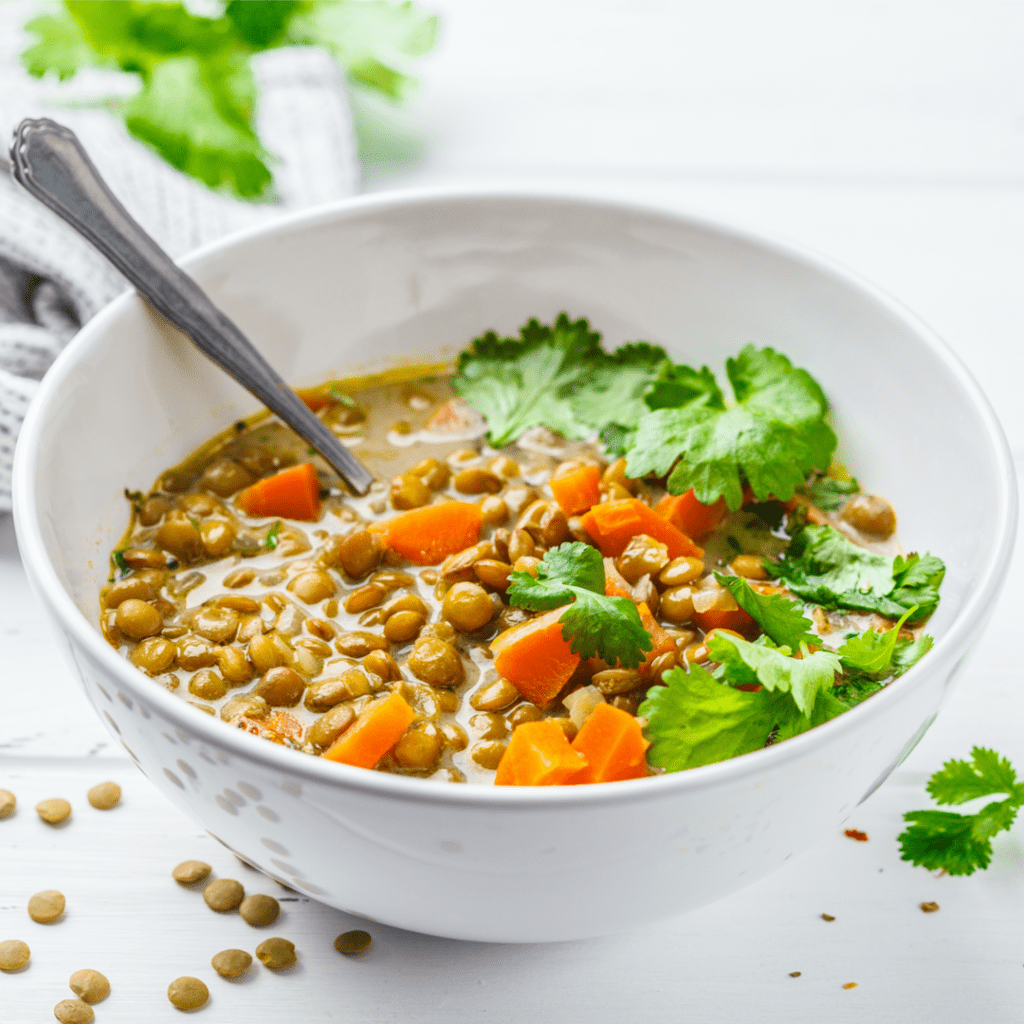 When you're hankering for a savoury cup of comfort, but don't want to spend a lot of time or money, this soup fits the bill. The ingredients are super simple (you may not even have to go shopping) yet the combination explodes with earthy flavours.
Serve this flavourful soup solo for a satisfying lunch, or pair with whole grain avocado toast and a green salad for a wholesome and delicious dinner.
It gets better… this soup is also a nutritional rockstar. The lentils pitch in remarkable amounts of fiber, protein, iron, potassium, while the carrot / squash rock the vitamin A. This dish offers a nice balance of slow carbs (starches), protein, and a wee bit of fat, all of which keep your tummy happy for hours.
Last but not least, this recipe is 100% kid-approved (three for three!).
Tip:
Pantry: Stock a variety of dried lentils – we use beluga, red, and brown.
Fridge: Keep bouillon paste and a ready supply of onions, carrots, and garlic.
INGREDIENTS
1 1/2 cups (12 oz) dry lentils (either 'regular' brown lentils or black lentils –  Beluga or de Puy).
1 large yellow onion
1-2 cups carrot (or squash: acorn or butternut are great)
3 cloves garlic, minced (pre-minced in jar or fresh)
1 Tbsp olive oil
3 cups low-sodium vegetable broth (Better than Bouillon low sodium veg) plus 1 cup water
2 tsp fresh thyme leaves (or 1 tsp dried).
1 tsp Herbes de Provence (keys are oregano, thyme, rosemary)
1 bay leaf (optional)
salt & pepper to taste
Optional: fresh parsley or cilantro to garnish
PREP
Prep lentils: Place dried lentils in colander. Remove any pebbles (rare but worth checking for!) then rinse well.
Prep veggies: Dice the onion. Chop the carrot (or squash) into bite size pieces. Mince garlic if needed.
COOK
Warm olive oil in large cooking pot on medium heat. Sauté onion for 2-3 minutes until it begins to soften.
Add carrot/squash and cook, stirring occasionally, until some softening, about 2 minutes.
Add the garlic and cook until fragrant, about 30 seconds.
Stir in the spices (pluck fresh thyme off stalk), cook until fragrant, about 30 seconds.
Stir in the lentils with just a splash of water. Mix everything well and stir for a few minutes.
Increase the heat to high, add the vegetable broth and water (enough to generously cover the lentils). Bring to a boil, cover partially, and reduce the heat to low. Simmer until the lentils are tender but still hold their shape, about 25 minutes for beluga or little less for brown; discard the bay leaf.
Add salt and pepper to taste
SERVE
Ladle the deliciousness into a bowl and add extra salt or pepper as desired. Works well fresh, but also keeps well for about 4 days in the fridge.
TIP
Pre-soaking lentils (1 hour or more) can be helpful for those who struggle with gas / bloating but is not necessary.
NUTRITION
Per smallish serving (a generous cup)

The Percent Daily Values are based on a 2,000 calorie diet, so your values may change depending on your calorie needs. The values here may not be 100% accurate because the recipes have not been professionally evaluated nor have they been evaluated by the U.S. FDA. They often do not apply to children.
CREDIT
Recipe is adapted from Food Reference