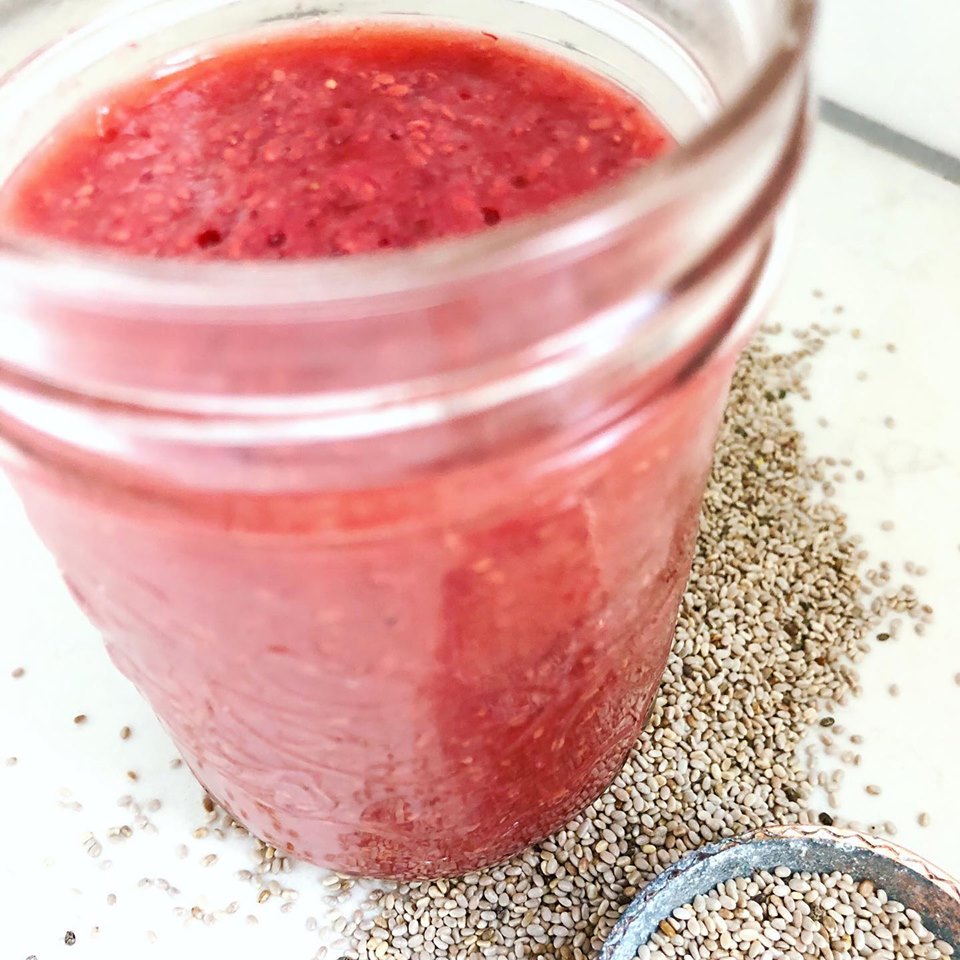 You can think of this Berry Simple Chia Jam as a fruit spread with a health makeover. All you need is two ingredients and 10 minutes (plus resting time).
The berries serve up just the right amount of sweetness (and a gorgeous colour), while the chia seeds thicken things up, and pitch in fiber, omega-3 fatty acids, and more.
Use this jar of goodness to tune up your peanut butter toast (choose whole wheat for even more fiber!), brighten up your oats, or create a coconut yogourt parfait.
INGREDIENTS
Makes ~ 1 cup of jam
2 cups berries (fresh or frozen – we have tried raspberries and strawberries)
1 Tbsp chia seeds (I used whole white) * add a bit more if you prefer thicker
Optional:
agave or white sugar to taste (I find it's not necessary)
a splash of vanilla
a squeeze of lemon
DIRECTIONS
Warm the berries. Place berries in a pot and bring to a gentle boil. Let simmer for about 10 minutes.* Speedy option: microwave for 2-3 minutes* The berries should be super soft and juicy.
Add the chia seeds.
Mix well. Smush the berry mix with a fork, or blend using countertop blender or hand (immersion) blender.
Add optional flavours (sweetener, lemon, vanilla)
Pour the mix into a small jar or glass to set. Let sit on counter for about 10 minutes. Store in fridge once ready.
SERVE
Scoop this goodness onto oatmeal, make a coconut yogourt, or make a peanut butter and chia berry toast.
NUTRITION
Per heaping tablespoon.

The Percent Daily Values are based on a 2,000 calorie diet, so your values may change depending on your calorie needs. The values here may not be 100% accurate because the recipes have not been professionally evaluated nor have they been evaluated by the U.S. FDA. They often do not apply to children.
Thank you, Dr. Pamela Fergusson, RD for the mouthwatering inspiration and the recipe!