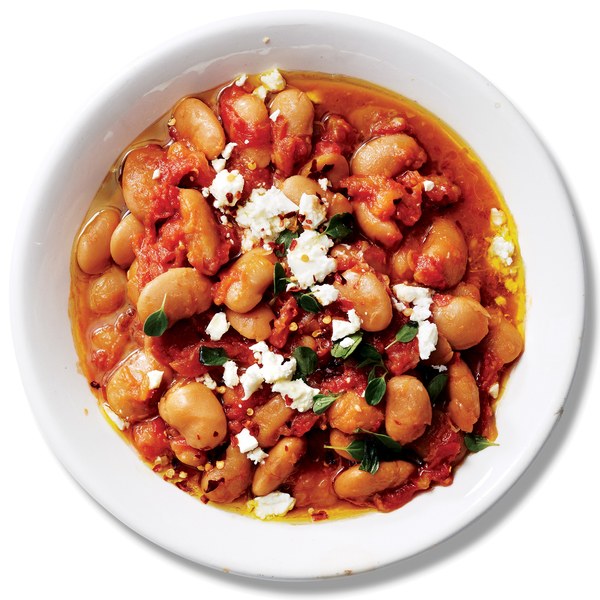 Even since my family discovered the joy of chowing down on luscious gigante beans drenched in tomato sauce at our local Greek deli, I've been eager to re-create the experience.
This simple yet satisfying dish tickles your savoury, umami taste receptors thanks to three umami powerhouses: tomatoes, garlic, and onion. The olive oil and sugar round out the experience, making it creamy and slightly sweet, too. Yet, nutritionally, this dish still gets an A in my books.
If you've never tried gigante beans, you're in for a treat. These hearty giants evoke a cross between a butter bean and a mini potato. Indeed, if you can't find them (I can only find them at the Greek supermarket) then use butter beans or giant lima beans instead.
This recipe mashup pulls from a few sources, using shortcuts to simplify to the point where we can add this dish to our list of impromptu weeknight options.
These beans pair beautifully with other Mediterranean sides: greek salad, orzo, tabouleh, grape leaf dolmades, or pasta salad with basil and sundried tomato.
INGREDIENTS
2 cans (~400 ml each) gigante beans (or butter beans or giant lima beans) or ~ 1.25 cup dried beans
1.5 cups marinara sauce (we like La Molisana Melanzane)
1.50 Tbsp, olive oil
1 yellow onion (or Spanish)
1-2 garlic cloves
1 tsp oregano
a pinch of sugar (optional)
a pinch of cinnamon (optional)
a pinch of salt
1/4 bunch of parsley (optional garnish)
PREP
Prepare the beans. If canned, simply rinse the beans in a colander (or cook from scratch!). If raw, beans must first be soaked overnight in a generous amount of water or quick-soaked for 1 hr in freshly boiled water. Rinsed the soaked beans, then bring to a boil, reduce the heat, then simmer for 45 min- 1 hr until slightly tender but not soft.
Chop! Dice the garlic and onion.
COOK
Heat the olive oil in a medium pot on medium heat. Add the diced garlic and onion to the pan, and cook until softened but not browned.
Add the tomato sauce cook and mix well. Stir in the beans. Add the oregano and a pinch of salt. Taste and decide if you want to add a touch of sugar, cinnamon, or salt.
Turn down the heat to low and simmer the whole concoction to meld the flavours (ideally ~1 hour but can be as little as 30 mins if short on time). Keep an eye on liquid levels and add a splash of water if needed.
SERVE
Serve cold straight from the pot or the next day from the fridge. Garnish with fresh parsley if desired.
NUTRITION
Four servings of one heaping cup.

The Percent Daily Values are based on a 2,000 calorie diet, so your values may change depending on your calorie needs. The values here may not be 100% accurate because the recipes have not been professionally evaluated nor have they been evaluated by the U.S. FDA. They often do not apply to children.
Recipe adapted from Sharon Palmer, RD and BBC Good Food, and Bon Appetit.
Credit to our supernanny, Paula, for teaming up with me to create this recipe and make it a success!