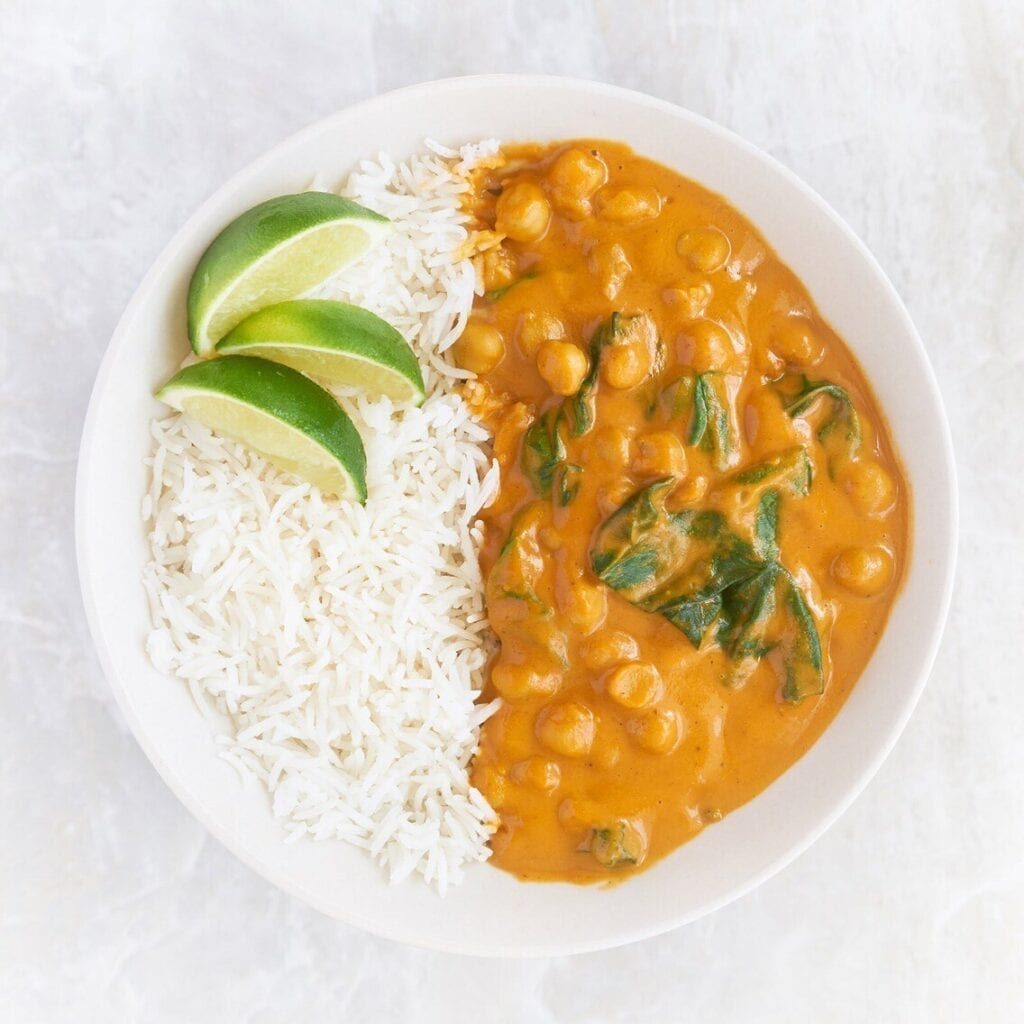 Like traditional Indian butter curries, this dish is creamy and flavourful. Yet, there is no butter (and not saturated fat) to be seen!
The creaminess comes from heart-healthy unsaturated fats in sunflower seeds (or cashews) and vegetable oil (or margerine).
This recipe works for the whole family because you can easily dial up or down the spice factor. Heat-lovers can add extra kick after the fact.
Nutritionally, this dish serves up generous dose of fiber along with a nice balance of complex carbs, proteins, and unsaturated fats. A modest serving gets you many key micronutrients as well: roughly 1/5 of your daily potassium, iron, calcium, and vitamin C, plus a whack of vitamin A. (see detailed nutrition after recipe)
I'm grateful to Dr. Pamela Fergusson, RD for this delicious example of how dairy-free doesn't mean missing out on creamy deliciousness!
INGREDIENTS
1 medium can (15 oz) chickpeas (low sodium if possible)
1 tbsp olive or vegetable oil (or margerine)
1 onion (yellow or white)
2 cloves garlic (minced)
1 tsp ground ginger or freshly minced
2-4 tsp curry powder depending on desired spiciness
3 cups vegetable broth (we use low sodium Better than Bouillon paste)
1/2 cup sunflower seeds (or cashews)
1 small can tomato paste
1-2 cups fresh spinach
1 tsp hot sauce (optional)
pinch of salt
PREP
Chop onions into small to medium pieces
Mince garlic and ginger if using fresh
Drain and rinse chickpeas in colander.
Prepare 3 cups vegetable broth if using bouillon cubes or paste.
DIRECTIONS
Warm oil in a large pot over medium heat. Add onion and sauté  gently until onion softens for 2-3 minutes, then add garlic and ginger . Add the curry powder and mix well, and cook together for a few minutes, stirring frequently.
Add the sunflower seeds (or cashews) and vegetable broth. Bring to a boil, then reduce to summer for about 10 minutes until seeds / nuts are soft.
Add the tomato paste and cook for another 2 mins, stirring to combine.
Cool slightly then blend in a powerful blender on high for 2 mins.
Return the sauce to the pot and add in the drained can of chickpeas
Simmer for 5 mins until chickpeas are hot. Stir in spinach to just wilt. Add a pinch of salt if desired.
Add optional hot sauce either to the entire batch or to individual servings.
SERVE
Serve warm alongside rice (white or brown both work well) or with naan bread.
Add a squeeze of lime or hot sauce for extra kick!
NUTRITION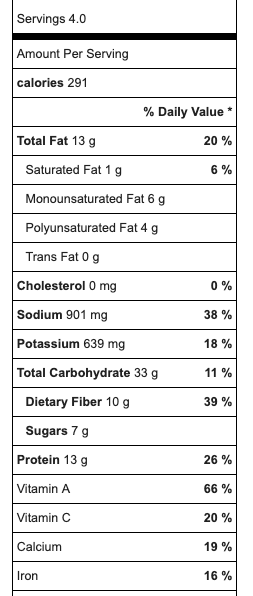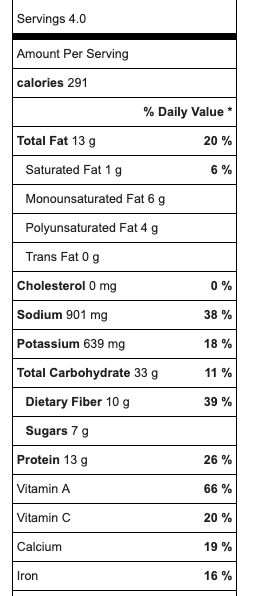 The Percent Daily Values are based on a 2,000 calorie diet, so your values may change depending on your calorie needs. The values here may not be 100% accurate because the recipes have not been professionally evaluated nor have they been evaluated by the U.S. FDA. They often do not apply to children.
Photo and recipe credit: Dr. Pamela Fergusson, RD.