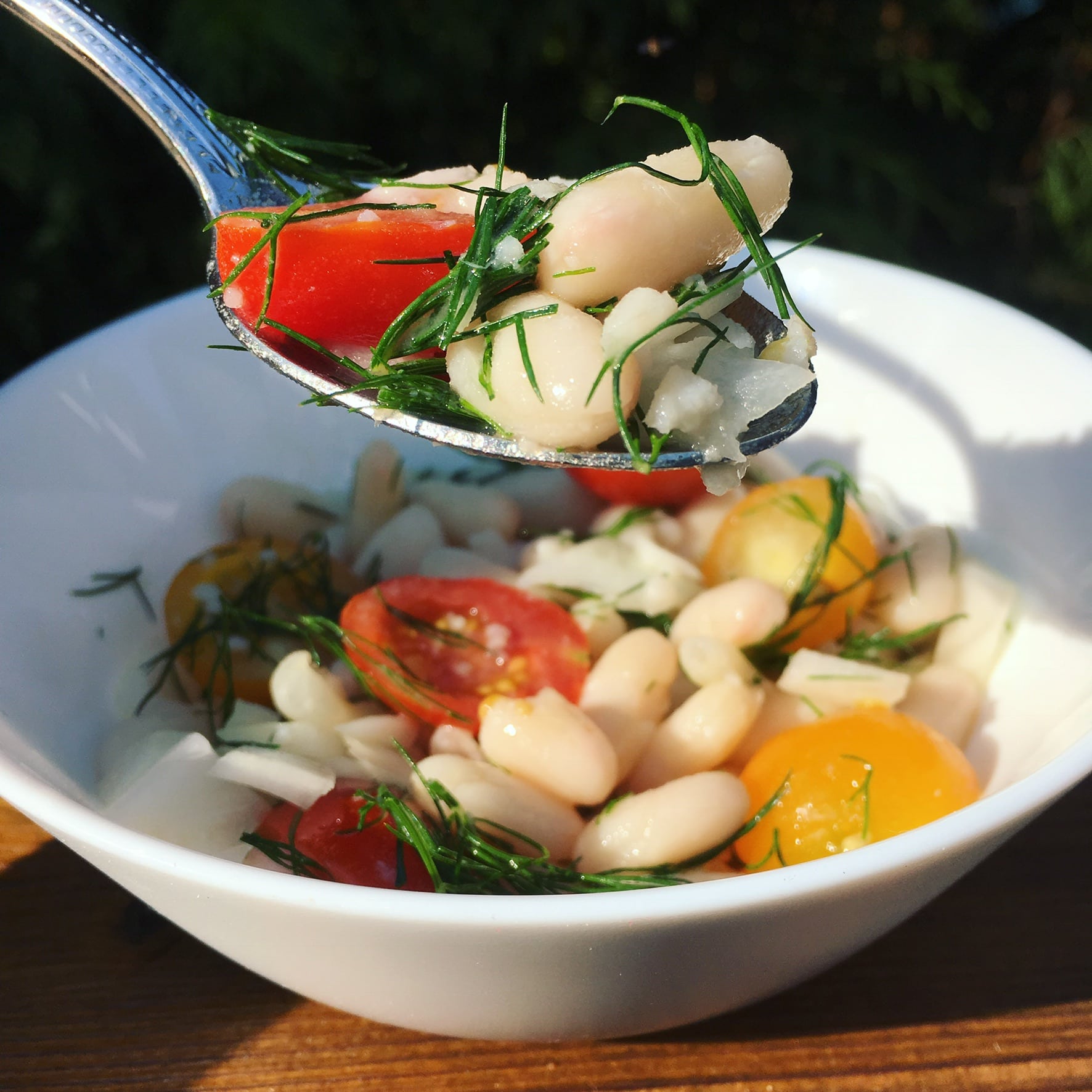 I fell in love with this fresh and zesty white bean salad in Turkey ten years ago, and our love is still going strong! The magic ingredient is fresh dill. 
This salad is popular at potlucks and becomes a meal when paired with a side of hummus, veggies, and pita chips. It also works well on top of a bed of greens, or  in a lettuce wrap, with a dollop of hummus.
Our kids gobble this up, though some prefer it without tomatoes, and with less onion and vinegar.  

Ingredients
30 oz (800 g) white beans (cannellini), cooked from dried or two medium (15 oz / 450 g) cans low salt
1/3 cup (50 g) yellow onion, diced
2 Tbsp (30 ml) lemon juice, freshly squeezed
1 Tbsp (30 ml) red wine vinegar
1 Tbsp (30 ml) olive oil
1 cup (150 g) cherry tomatoes, halved
½ cup (10 g) fresh dill (about 1/2 a bunch)
¼ cup (15 g) fresh parsley (optional)
Salt & pepper to taste
Directions
Rinse the beans, dice the onions and dill, halve the cherry tomatoes. Put the beans and onions in a medium bowl, then add all the lemon juice, red wine vinegar, and olive oil. Mix well. Add the fresh dill, cherry tomatoes, and optional parsley. Toss lightly, season with pepper and salt if desired (depends on how salty the beans are).  
This dish can be enjoyed immediately but gets even better after marinating for a few hours in the fridge. Keeps well for 4-5 days in the fridge.
Nutrition