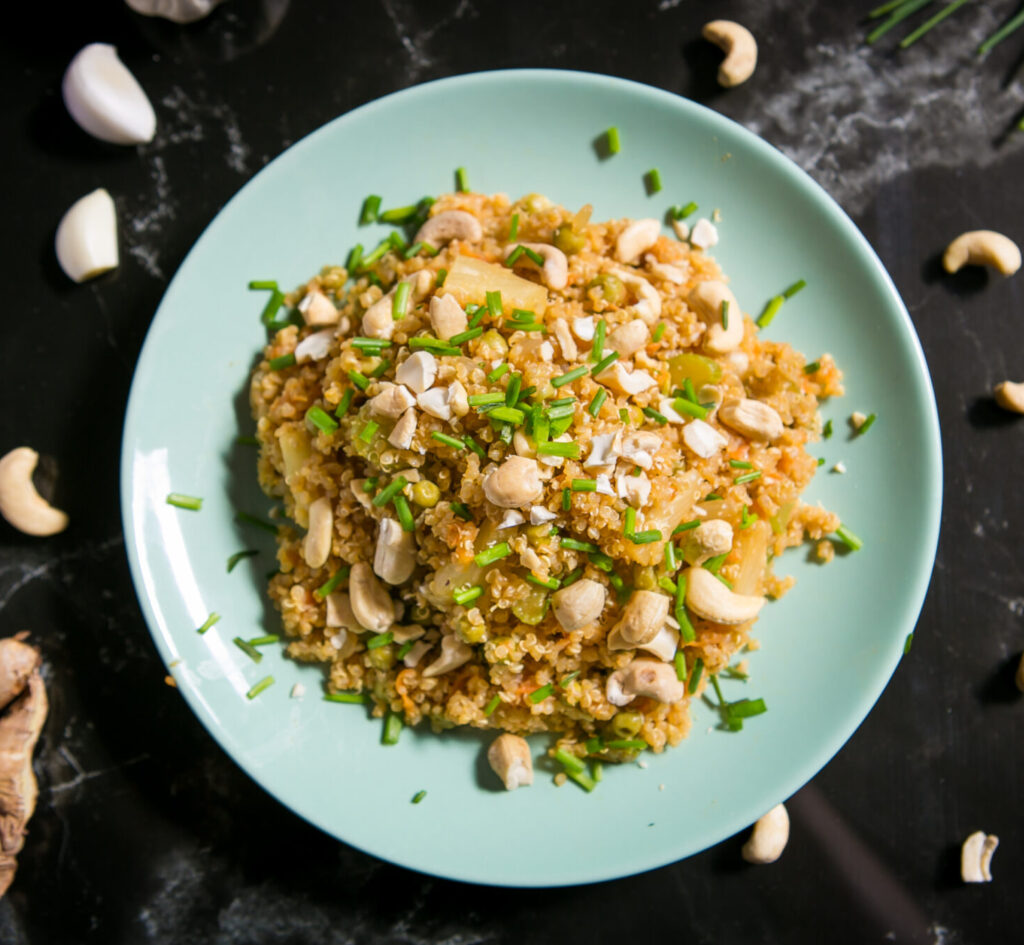 This pineapple fried quinoa topped with cashews and green onions is a new go-to recipe for weeknight dinners. Think garlic, ginger, soy sauce, and a hint of sweetness. Salivating yet?
Recently, I've been struggling to find nutrient-dense recipes that everyone in the family gets excited about, given our different tastes. I was thrilled when this dish won over my hubby and two of my three kids (the third tolerated it, but not with as much gusto as the others). It was also a great success with my inner circle of recipe testers, including my sister who took this awesome photo. Thank you,
Maria Asselin-Roy
!
This dish comes together in under 30 minutes if you prepare the quinoa a day or two in advance (recommended but not required). Serve with a side of sauteed tofu for a deliciously nourishing meal.
✨Ingredients
– 3 cups cooked quinoa, cooled (~1 cup uncooked)
– 1-2 Tbsp oil (try olive or avocado)
– 2 cloves garlic
– 1/3 cup yellow onion, diced
– 1/3 cup celery, diced
– 1/2 cup carrot, shredded or finely sliced
– 1/2 cup peas (frozen works just dandy )
– 1/2 cup fresh (or canned) pineapple, bite sized pieces
– 1-2 tsp ginger (fresh, diced – or cheat with pure ginger juice!)
– 1-2 Tbsp soy sauce (reduced sodium)
– 3 Tbsp raw cashews
– 2 Tbsp green onion / chives
✨Instructions
1. Warm oil in a large frying pan over medium heat. 
2. Add diced onion, saute 2-3 minutes then add garlic and ginger. Saute another minute or two, then add celery and carrot and soy sauce. Mix well and cook for a few minutes, stirring regularly.
3. Add quinoa and peas, then mix well and cook on medium heat for a few more minutes to let the flavours mingle. 
4. Add pineapple for the last 1-2 minutes, as it doesn't need much time. 
5. Taste and add more ginger, or soy as desired
6. Season with chopped chives and cashews if desired, before serving. A bit of extra pineapple on top goes over well with my kids.
✨Nutrition
Per ~ 1 cup serving

*Nutritional data should only be viewed as rough estimates. % Daily Values vary with age, weight, and other factors.