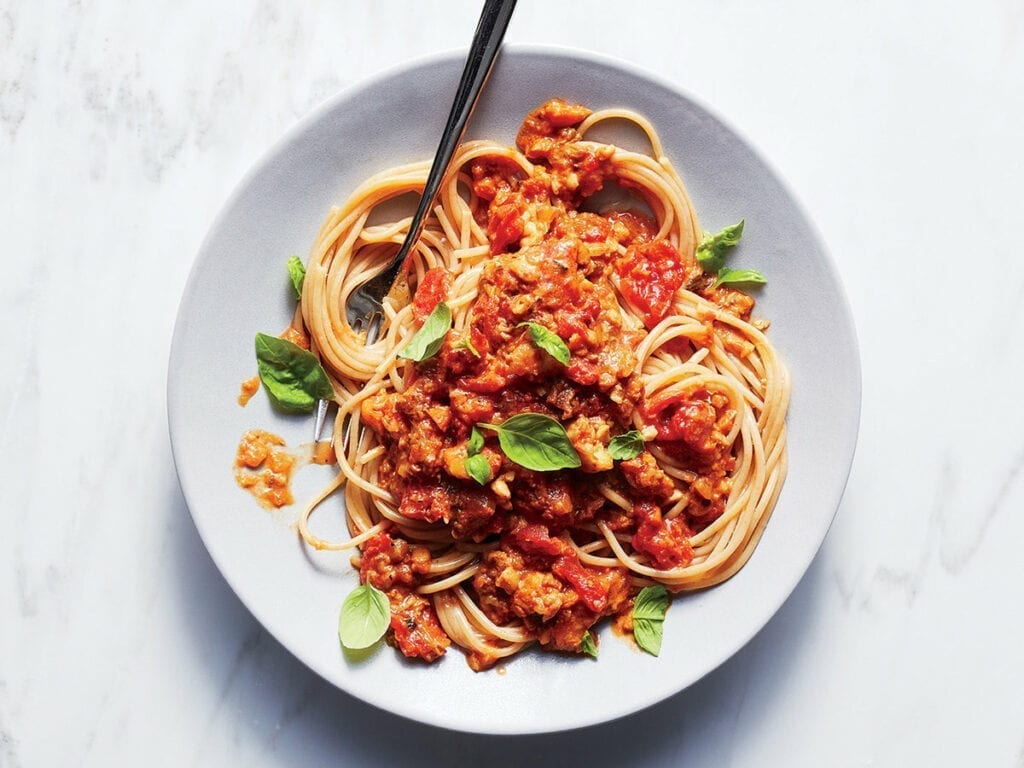 This satisfying More Than Marinara Sauce marries sweet tomatoes, bright basil, earthy oregano, along with savoury garlic and onion. It's hearty, versatile, and appeals to kids and adults alike.
This sauce is higher in protein than typical marinaras, with a toothsome texture and satisfying "oomph" akin to a plant-based bolognese. Can you guess the secret ingredient?
Crumbled extra firm tofu! I know it sounds crazy, but hear me out.
Many people have an aversion to the texture of tofu. I get it. It can be strangely wet and mushy – I used to feel that way about tomatoes. Yet, those in the tofu lovers' club know that all tofu is not equal. The texture of tofu is highly dependent on which type you buy, and how you prepare it. For the anti-mush crowd, opt for extra firm, then press excess moisture out using something heavy and paper towels. The end result: a firm, chewy, satisfying texture.
If you are worried about tofu and your health, check out this article (Fueled by Science) that addresses common fears around phytoestrogens.
Here are four ways that our family enjoys this sauce. Try them all and let me know of your family faves.
Pizza bread. Whole wheat toast, slather with sauce, top with vegan parmesan (cashew crumbles, nutritional yeast, garlic, salt)
Saucy veggies. Ladle generously atop steamed broccoli or spaghetti squash (my fave!).
Noodles & marinara. Cook your fave noodles, then ladle sauce generously on top. Garnish with vegan parm. (Note: I generally avoid refined white pasta, but splurge sometimes alongside a healthy sauce and salad).
Straight up! My little B loved this sauce so much she asked for a bowl of it!
Nutritional Tip: To keep sodium levels in check, choose your ingredients wisely. Canned tomatoes and bouillon can be very high in sodium. Regardless, you should come out better than store bought sauces.
Ingredients
2 Tbsp olive oil
1/2 white onion
2 cloves of garlic
1/2 cup mushrooms (optional)
1 can tomatoes (crushed is best)
1/2 block of extra firm tofu
1 cup low sodium vegetable broth (we love Better Than Bouillon)
1-2 tsp oregano (fresh, if possible)
2 tsp basil (fresh, if possible, start with 1 tsp if dried)
Pepper to garnish
Instructions
Prep
Prepare tofu. Rinse with water then press to remove excess moisture: wrap in paper towels and place a heavy object on top for 5-20 minutes.
Mince garlic, chop onion & mushrooms (if using) into small pieces
Prepare broth, if using concentrate or cubes. Mix with 1 cup boiling water. To keep sodium in check use water instead or use 1/2 recommended strength.
Cook
Heat medium pot to medium. Add olive oil.
Add chopped onion and garlic for about 5 minutes till translucent.
Add spices (dried oregano, fresh basil, torn into small pieces) and cook for another 5 minutes.
Add canned tomatoes and let simmer for 20-30 minutes or more.
Crumble tofu then add and cook for 10 more minutes.
Turn off heat and then blend partially using a hand blender.
Serve with freshly ground pepper. Extra salt is unlikely to be needed. Garnish with a bit of extra basil if desired.
Nutrition
Per ~3/4 cup serving

Nutritional data should only be viewed as rough estimates. % Daily Values vary with age, weight, and other factors. 
Credit
Hats off to our supernanny, Paula, for building this recipe from scratch, based on inspiration from Brigitte Gemme at Vegan Family Kitchen.