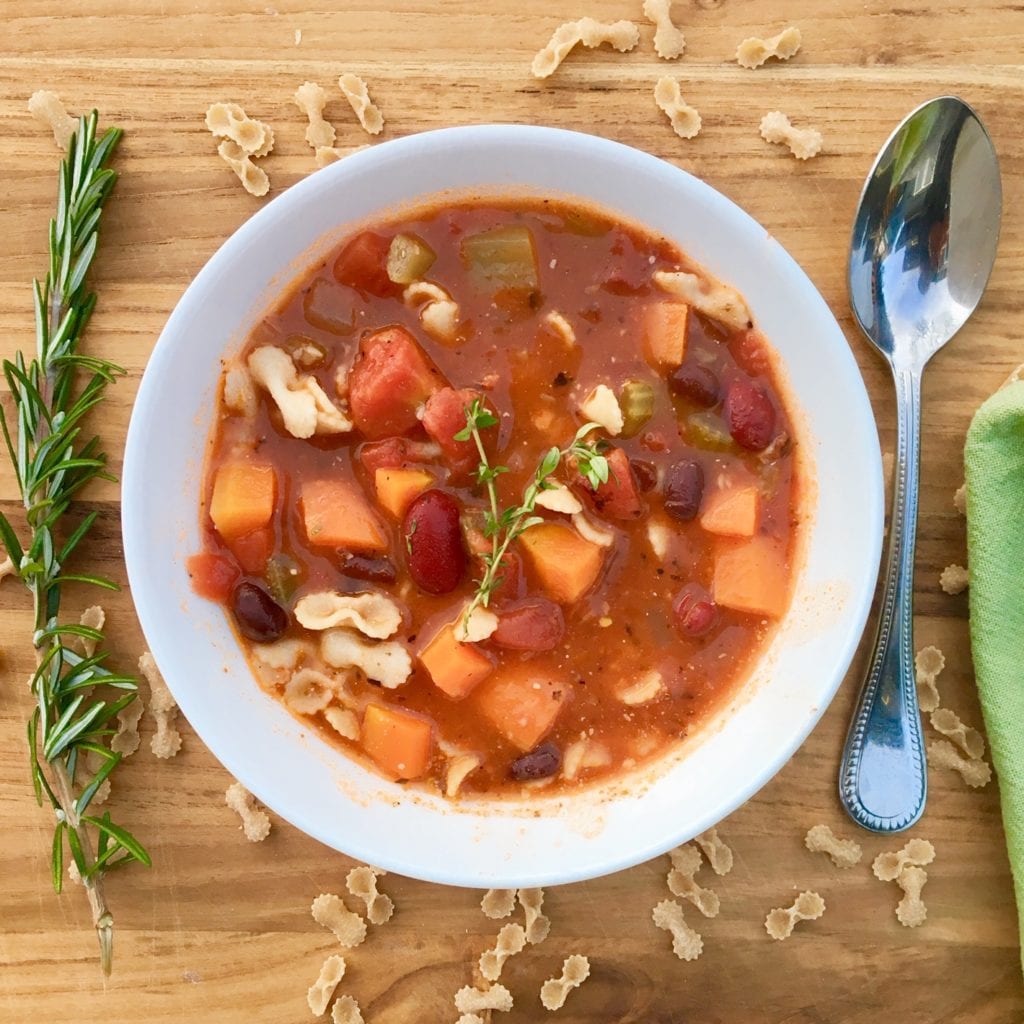 It's hard to beat the comfort of a steaming bowl of minestrone soup on a cold winter's day.
I call this Midweek Minestrone because the ingredients are all very simple, including many pantry staples, and may still be on hand even if you don't plan ahead.  It's also a very forgiving recipe. If you are missing a veggie, simply sub another in the same family. Virtually any kind of beans and any version of diced tomatoes will work. Similarly, all three spices are nice, but we have had success with only one available.
This dish serves up plenty of protein, fiber and vitamins, thanks to generous amounts of beans and veggies (and the tomato, actually a fruit). If you use whole wheat pasta (which works well in
this dish), you get a bonus of more fiber, more protein, and more iron.
Family Flex Tip
You can 'tune' this dish to different preferences by keeping the noodles separate rather than adding to pot. I tend to prefer a more veggie-heavy version while my kids like theirs more noodle-heavy.
INGREDIENTS
3 carrots (medium)
3 stalks celery
1 onion
4 cloves garlic
2 Tbsp olive oil
2 regular (14-oz) cans beans [We like to mix red kidney and
cannellini but black beans or pinto work too]
2 cans diced tomato [Sub crushed tomato if kids don't like chunks. Try fire-roasted, stewed, or Italian flavour for extra zing]
6 cups vegetable broth / water [We use Better than Bouillon low sodium vegetable broth paste plus water]
1 tsp basil if dried (or 1-2 Tbsp fresh)
½-1 tsp thyme if dried (or 1-2 Tbsp fresh)
½-1 tsp oregano if dried (or 1-2 Tbsp fresh)
1 cup dry small pasta (= ~ 2 cups cooked) [We like PC organics whole grain mini bowties]
Salt and pepper to taste
Optional: Parmesan to finish. Vegan option – simple DIY cashew or sunflower parmesan*
DIY Vegan Parmesan
All you need is 4 simple ingredients and a blender. Cashews or sunflower seeds, nutritional yeast, garlic powder, and salt. See 5 minute recipe on Minimalist Baker.
PREP
Peel carrots, chop carrots and celery into in small to medium pieces.
Dice onion.
Mince garlic if using fresh.
Rinse the canned beans.
If using bouillon cubes or paste to make broth, boil some water and dissolve the recommended amount in 1 cup of boiling water. Add the remaining water later.
COOK
Heat olive oil in a large pot over medium-low heat. Cook onion for 3-4 min until they just begin to soften. Add garlic and continue to sauté until fragrant, 2 to 3 minutes. Be sure not to let the garlic brown! Stir in carrots and celery until heated through, 2-3 minutes.
Add the rinsed beans, the canned tomatoes, and the broth (see prep note above if using cubes or paste). Add spices (basil, thyme, oregano). Turn up heat to bring to a boil, stirring frequently. Reduce to medium-low, and simmer until vegetables are tender, about 30-40 minutes. Taste and add salt and pepper to taste.
While soup is simmering, cook the pasta according to directions.
SERVE
Either add noodles to pot, or ladle veggie/broth and noodles separately
Garnish with parmesan (dairy or vegan)
NUTRITION
Per ~ 2 cup serving

Note: This nutritional profile assumes whole wheat bowties, mixed in evenly.
The
Percent Daily Values are based on a 2,000 calorie diet, so your values may
change depending on your calorie needs. The values here may not be 100%
accurate because the recipes have not been professionally evaluated nor have
they been evaluated by the U.S. FDA. They often do not apply to children.