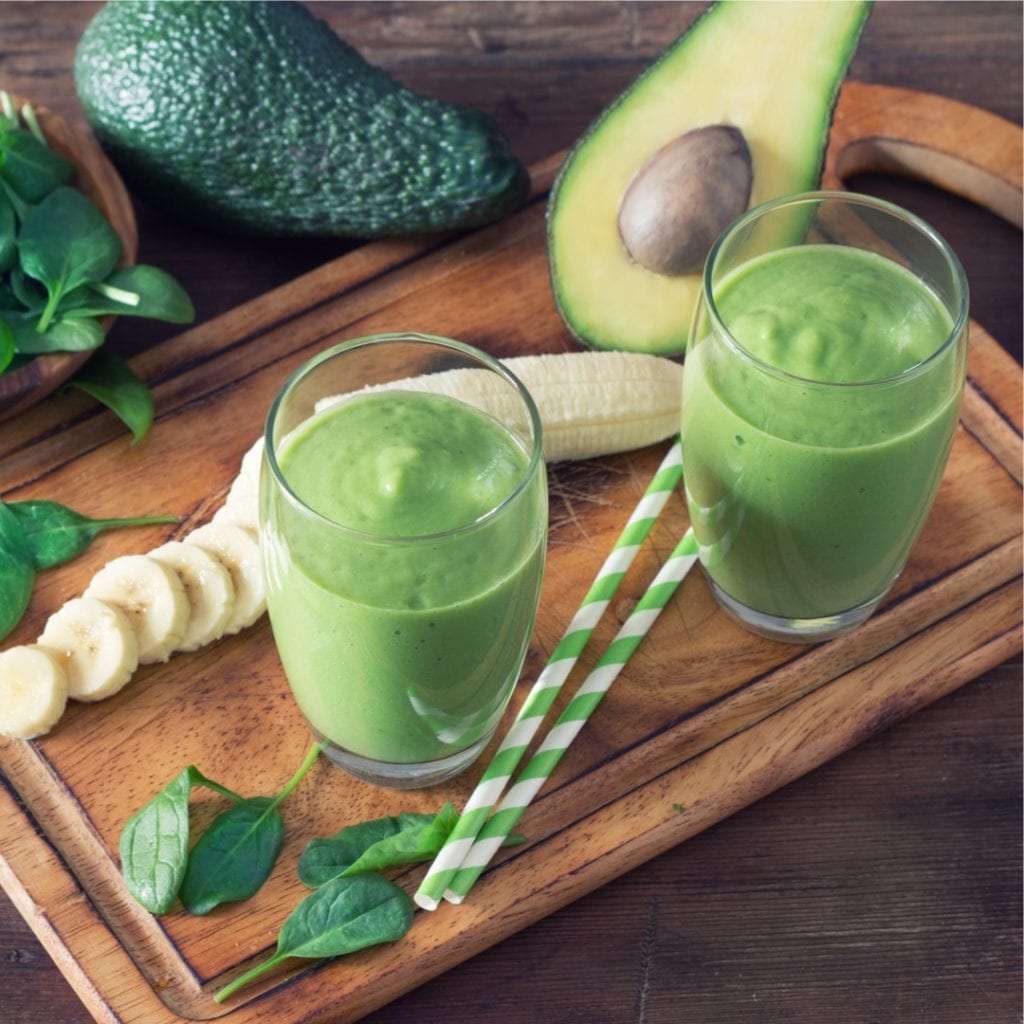 This simple, creamy, and delicious green smoothie has your nutritional bases covered and then some. The only challenge is the elusive perfectly ripe avocado – though I have a solution for that!
Each ingredient pitches in to the winning combination:
Banana: A balanced mix of carbs: starch for longer lasting energy and sugar for yum (plus, it masks any hint of bitterness from greens!):
Avocado: High in fiber and polyunsaturated fats.
Soy milk (or other milk): High in protein (some fat too). Nut milks work too, though off-the-shelf brands tend to be heavily diluted so offer little protein.
Greens: Extra fiber, vitamins, minerals, antioxidants.
Don't be afraid to serve this to kids that 'don't like' avocados. My toddlers say this yet they suck back this smoothie with glee!
INGREDIENTS
1 cup soy milk (try unsweetened first and see if the banana does the trick)
1 banana (frozen)
1 avocado (fresh or frozen)
1/2 cup greens (baby spinach or kale) – or more if desired
Optional 'boosts'
Extra sweetener to taste (likely not needed if your milk has sugar).
Cocoa powder: add a Tbsp or so and you have yourself a brown swamp monster for chocolate lovers!
Oats: Add 1/4 cup of raw quick oats for extra fiber!
Ginger: A tsp of minced fresh ginger (or juice) adds zing for more sophisticated palates.
Protein powder. Not recommended for kids, especially if using a protein-rich milk.
TIPS
Keep a few perfectly ripe avocado 1/2 avocados in the freezer to avoid having to wait for that single moment of ripeness. Remove the pit and skin before freezing just the green stuff in a baggie or freezer safe container.
keep chunks of banana in the freezer (1/3 of a banana is my fave size as this is all I need in my fruitier smoothies). Again, peel first then place in freezable container.
NUTRITION
Per ~ 1 cup serving (1/2 recipe)

Note: This profile is based on Silk soy milk (1/2 unsweetened and 1/2 original).
The Percent Daily Values are based on a 2,000 calorie diet, so your values may change depending on your calorie needs. The values here may not be 100% accurate because the recipes have not been professionally evaluated nor have they been evaluated by the U.S. FDA. They often do not apply to children.