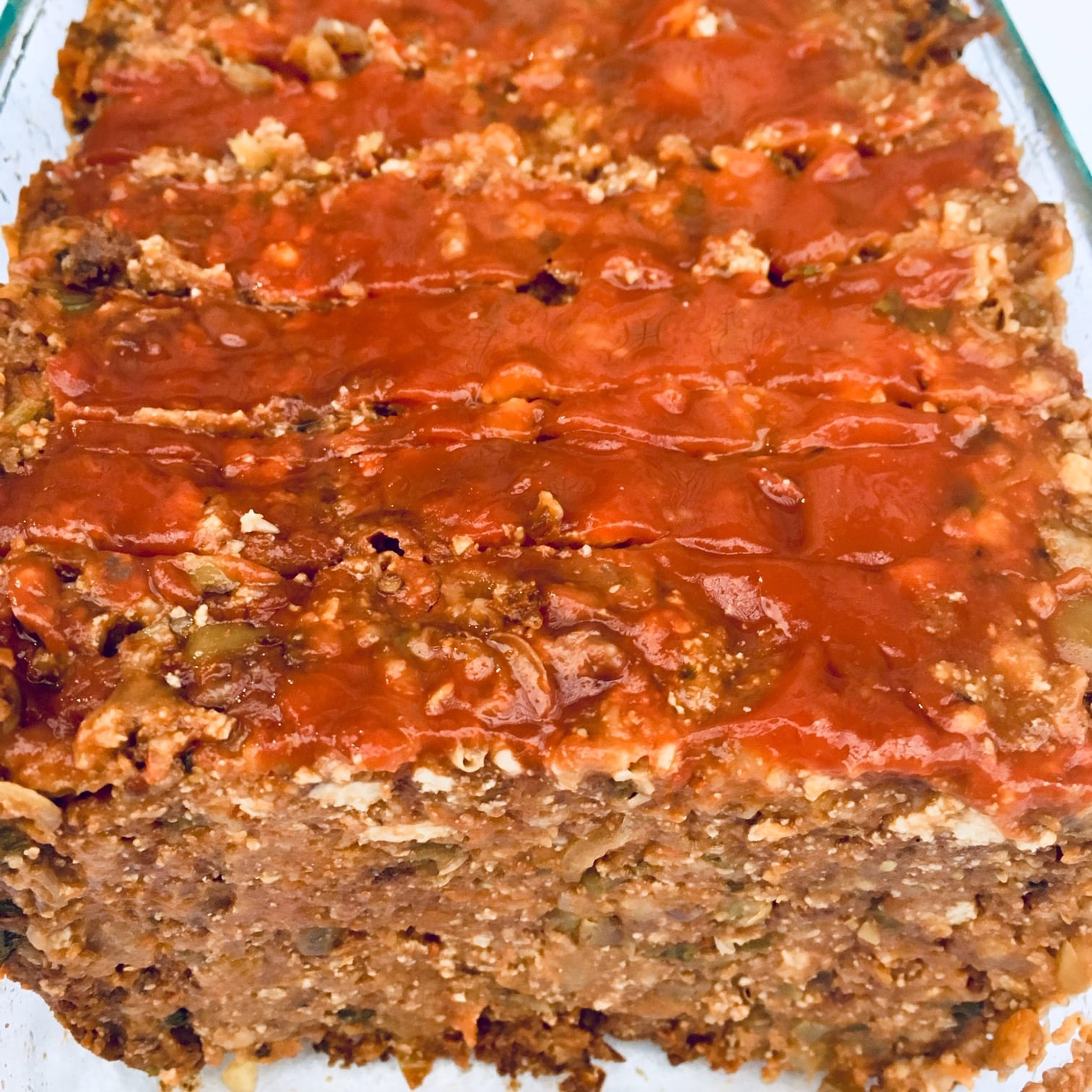 What this lentil walnut loaf lacks in good looks, she makes up for in flavour and nutrition (hooray for protein, iron and fiber!).
While this dish isn't super quick to make, you will get a generous family dinner plus ample leftovers. Try serving it with spicy mayo dressing to make an uber-hearty sandwich, or crumble it into a spinach salad with sundried tomato.
My seven-year is a fan (went for seconds!), but it can be hit and miss with the toddler crowd. As always, extra ketchup helps boost appeal – a great use of your sugar allowance, in my books.
INGREDIENTS
3/4 block (about 300g) Extra Firm Tofu (optional: sub some or all tofu for mock beef crumbles)
3/4 cup dry lentils (raw brown / green)
1 cup quick oats
1 can diced tomatoes (option: swap some or all with marinara sauce – will be slightly sweeter)
2 carrots (medium)
2 celery stalks (large)
1/2 yellow onion (medium)
1/2 cup walnuts (minced)
1 Tbsp olive oil
2 cloves garlic
4 Tbsp green onion
3 Tbsp Soy sauce (reduced sodium)
2 Tbsp dijon mustard
2 tsp dried parsley
1 tsp sage
2 tsp thyme
2 Tbsp ketchup + a few more to glaze
PREP
Preheat oven to 350°F.
Rinse tofu. Pat dry with paper towels to remove excess moisture and let sit while cooking lentils.
Cook lentils in 2 cups water for ~15 min (bring to boil then simmer). Add some veggie bouillon while cooking for extra flavour if desired. Drain.
Chop veggies (onion, celery, carrot, green onion) and mince garlic
Finely chop walnuts
COOK
Warm olive oil in large fry pan over medium heat. Add onion, garlic,celery, and carrot, and sauté about 5 minutes, or until vegetables are tender.Remove from heat, and cool.
Crumble tofu into bowl. Add mock ground beef crumbles if using. Stir in walnuts, chopped veggies, cooked lentils, oats, soy sauce, ketchup, tomatoes, mustard, parsley, sage and thyme. Season with salt and pepper. Add more soy or Dijon mustard for extra tang if desired, and/or add ketchup to sweeten.
Coat 9×5-inch loaf pan with cooking spray and spoon mixture into pan, lightly packing in. Spread thin layer of ketchup over top of loaf then cover with aluminum foil.
Bake 55 to 60 minutes, or until toothpick inserted in center comes out clean.
Cool for 10 minutes before serving.
NUTRITION
Per slice (about 9 per loaf)

The Percent (%) Daily Values are based on an average adult, who needs approximately 2,000 calories and do not represent the needs of children. Furthermore, they are not 100% accurate because the recipes have not been professionally evaluated nor have they been evaluated by the U.S. FDA.
Credit to supernanny Paula for preparing this family favourite!