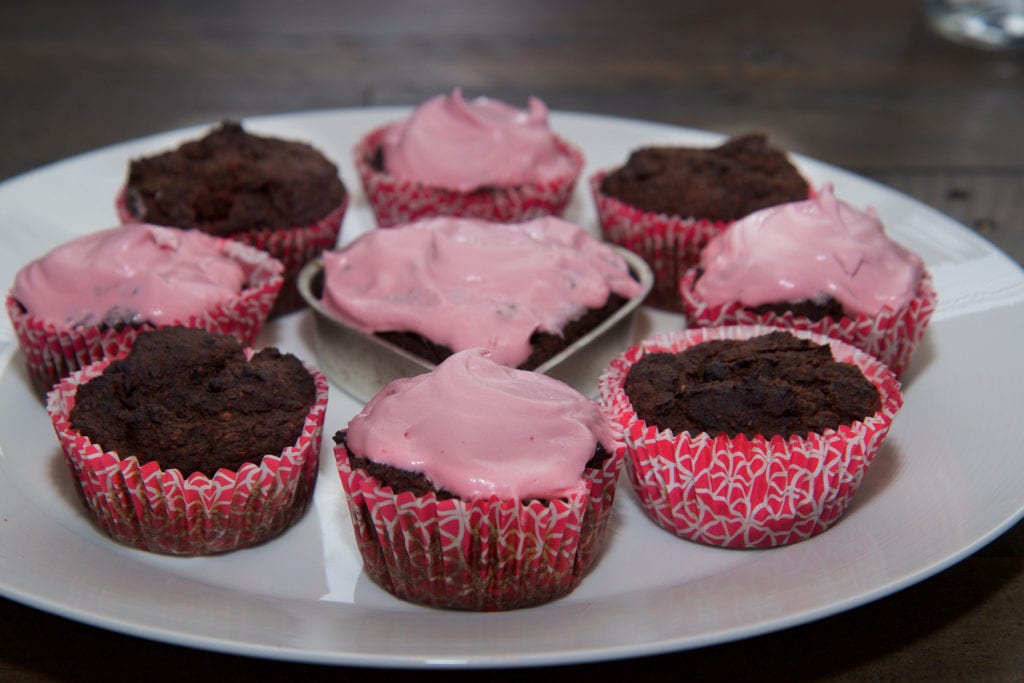 With these black bean brownies turned cupcakes, you can have your cake and eat it too!
They are loaded with fiber and iron thanks to black beans and cacao powder (~ one fifth of average adult daily needs for each!).
My girls helped me make these for their 3rd birthday and they were a hit. I brightened them up with some beet-juice boosted frosting.
You may be surprised to see me using plain old white sugar, but the reality is that there is very little difference health-wise between most sweeteners. Yes, the less refined ones have a touch more vitamins and minerals, but you shouldn't be turning to sugar for these! My advice is to simply use whichever sugar suits the recipe. The original recipe for these brownie cupcakes used coconut sugar but white sugar is much cheaper and gets the job done!
Note: if you want something light and fluffy, this is not the recipe for you. These are dense and filling, so be sure to save room.
INGREDIENTS
1 cup of rolled oats
2/3 cup of sugar
5 Tbsp cacao powder
2 tsp baking powder
1 tsp baking soda
1.5 cans of black beans (or ~ 3 cups home-cooked)
1 cup of unsweetened apple sauce
6 Tbsp coconut oil
2 Tbsp flax seeds or chia seeds (buy whole and grind or buy ground)
1 Tbsp apple cider vinegar
2 tsp vanilla extract (splurge on the real stuff!)
1/3 cup dark chocolate chips (I used Enjoy Life brand)
1/3 cup walnut pieces (optional – we didn't use them)
DIRECTIONS
Preheat over to 350°C
Blend oats in a food processor or blender until fine. Add the remaining dry ingredients: sugar, cacoa powder, baking powder and baking soda. Pulse until incorporated for approximately 30 seconds. Place into a bowl and set aside.
Rinse and drain black beans in colander. Pulse briefly in food processor (or blender). Add all wet ingredients to food processor: apple sauce, coconut oil, vegan egg substitute (SEE NOTES), apple cider vinegar and vanilla. Blend until smooth. Add dry ingredients to black bean mixture and mix well.
Manually stir in the chocolate chips (and optional walnuts).
Place liners in muffin tray and place fill about 3/4 full. Makes a little more than a dozen.
Place in preheated oven and bake for ~ 30-40 minutes or until toothpick comes out clean.
NOTES:
To make vegan egg substitute, mix 1 Tbsp ground flax (or chia) seeds with 2.5 Tbsp warm water. Stir and let thicken. This recipe calls for 2 'seed eggs' so simply make a double batch (or let each kid make one!).
NUTRITION
Per one brownie or cupcake (assuming batch of 14)
CREDIT
Recipe adapted from My Green Fork