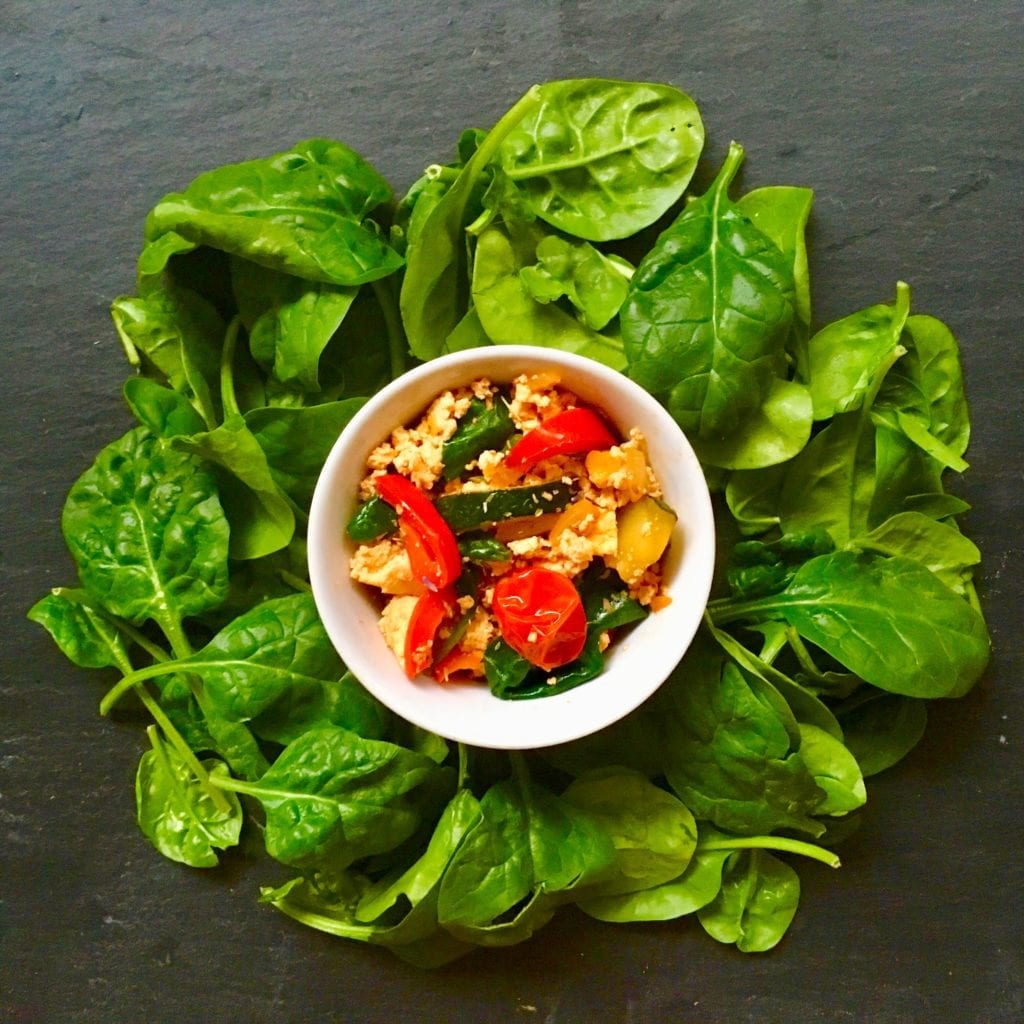 If you are looking for a crowd-pleasing brunch dish that is packed with protein and bursting with flavour, you've come to the right place. The fact that it's free of animal products is a nice bonus, as are the holiday-theme colours!
I was treated to my first tofu scramble at a quaint bed and breakfast in Mendocino, California, complete with llamas. In the decade since that memorable meal, this dish has become a brunch (or lunch) favourite with omnivores and herbivores alike.

The great thing about tofu (besides its rockstar nutritional value) is that it takes up whatever flavours you immerse it in. Thus, you can easily transform the recipe with just a few changes – such as Fiesta style (add hot peppers and chili, serve with fresh salsa) or Masala style (Indian spices).

You can also customize this dish to make it more kid-friendly – which, in my case, means paring down the zucchini and fresh tomato and/or cutting into microscopic pieces.
Don't be shy about playing around with this and adapting to your tastes. I suspect that mushrooms and a splash of tamari would be divine …
Note: if you want to reduce fat or calorie content, sauté the veggies in a bit of vegetable broth.

Ingredients
Makes 6-8 little ramekins (or 1-2 full meal deals)
1 package extra firm tofu
1 medium onion
1 red bell pepper
1 small zucchini
2 cups baby spinach
1 cup cherry tomatoes
1-2 Tbsp olive oil
1-2 Tbsp sun-dried tomatoes in oil
1 tsp balsamic vinegar (optional)

1-2 tsp (I love Herbes de Provence. Or simply rosemary, thyme and oregano).
salt and pepper to taste
Prep
Rinse the tofu block, and press between paper towels to remove liquid.
Prep the veggies: dice the onion, chop the bell pepper and zucchini, halve the cherry tomatoes.
Cook
Warm olive oil in a large saucepan over medium heat.
Add the onions, bell pepper and zucchini first, sauté for 4-6 minutes until beginning to brown.
Add the cherry tomatoes and the balsamic vinegar, and cook for another minute or so.
Crumble the tofu by hand directly into the saucepan. It will make a very large mound!
Drizzle sundried tomatoes in oil and herbs / spices, and mix well. Sauté the mixture for another 3-5 minutes until the tofu begins is just beginning to brown.
Add the baby spinach last, and mix until it just begins to wilt.
Season with salt and pepper to taste.

Serve
Spoon into little ramekins if hosting, or…serve yourself a heaping bowlful and chow down. Serve warm!
Nutrition
For one single ramekin serving

The Percent (%) Daily Values are based on an average adult, who needs approximately 2,000 calories and do not represent the needs of children. Furthermore, they are not 100% accurate because the recipes have not been professionally evaluated nor have they been evaluated by the U.S. FDA.