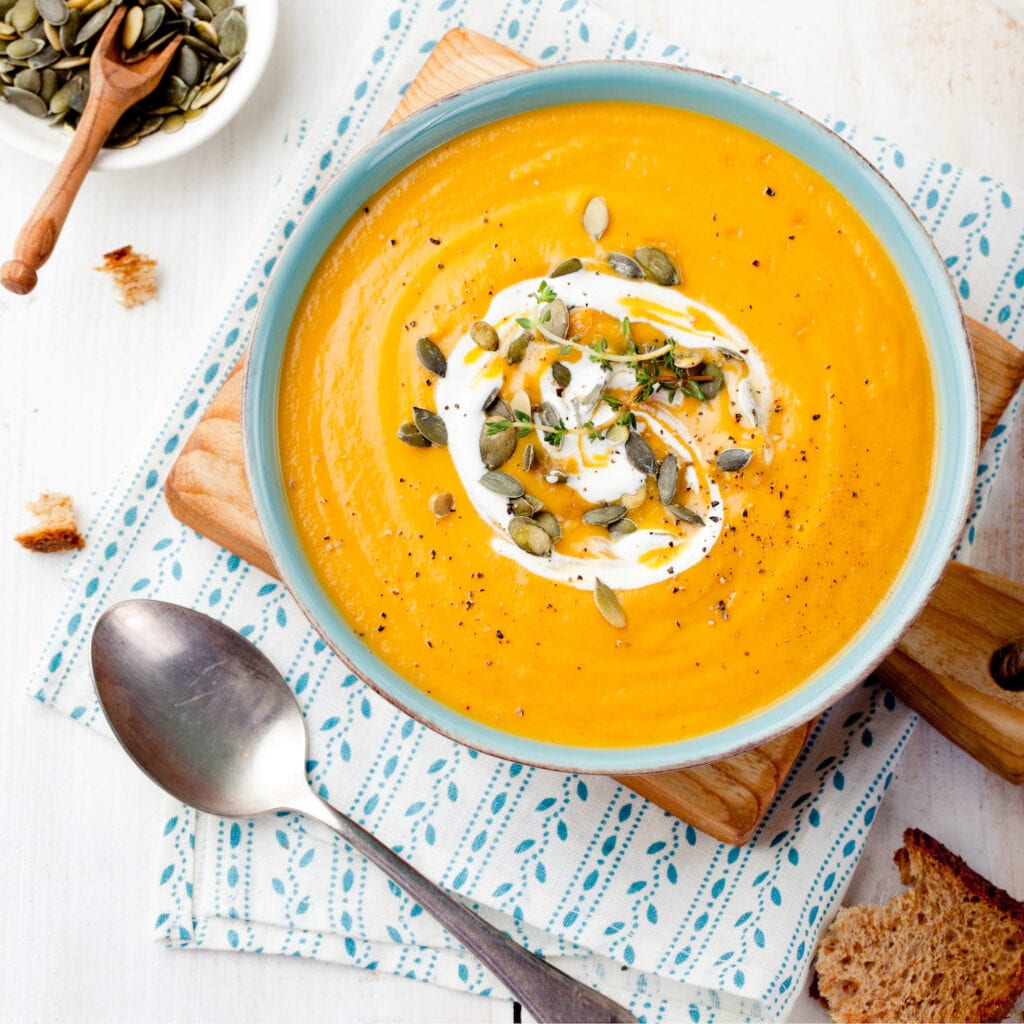 This simple yet sophisticated roasted butternut squash soup can fight the coldest, dreariest days with its warmth and brightness. The sweetness of roasted veggies mingles beautifully with savoury garlic, thyme and rosemary, along with a hint of nutmeg for extra coziness.
There's more good news – this soup rises above its sister soups both in texture and nutrition thanks to the secret ingredient: cannellini beans (white beans). To reach new heights of creaminess, don't be shy about finishing with a generous drizzle of cashew cream.
If you are struggling with night vision, this soup may help… a single small cup provides well above your daily vitamin A needs (a great selling point for kids – not that they will need convincing!). Fiber content, at 6 grams per small cup, is also noteworthy – that's about a quarter of my daily needs (same goes for my eight year old son who wolfed down two cups). I recommend choosing a low sodium vegetable stock to keep things in check.
The whole family happily gobbled up this soup, with an adorable soundtrack of "mmmm" from my most expressive eater. We also tested it with the random neighbour who stopped by to play with my son, and he also gave it two thumbs up. I will definitely be adding this to our fall rotation while squash is plentiful.
Serve with a side of whole wheat bread or avocado toast and a hearty balsamic salad (add grains and seeds!) to make a full meal.
Ingredients
Makes about 6 cups of soup
1-2 tablespoon olive oil (or avocado)
1 butternut squash (medium to large – approx 2 cups)
1 yellow onion
2 medium carrots
1-2 cloves of garlic, chopped
3 cups vegetable stock (we love Better than Bouillon reduced sodium paste)
1 regular can (15.5-ounce) cannellini beans
1 tsp fresh rosemary or 1 tsp dried
2 tsp fresh thyme or 1 tsp dried
1/2 tsp nutmeg (optional)
Optional toppings: Roasted pumpkin seeds; parsley; sprig of herbs; cashew cream
Instructions
1. Preheat oven to 400 F.
2. Prep veggies. Cut butternut squash in half, length-wise, and remove pulp and seeds. Peel onion. Cut in half. Peel carrot. Lightly coat your veggies with oil. For squash, spray or rub oil (olive or avocado) on the flesh side of squash, and place face down on a baking sheet. For onion and carrot, brush all exposed sides.
Note: Store-bought cubed squash works as well. Simply toss lightly in olive or avocado oil and expect a slightly shorter roasting time.
3. Roast veggies. Place squash, carrot, and onion on tray and set timer for 20 minutes. Check onion and carrot at this point. Veggies are ready when tender to touch of fork and lightly browned. Squash will likely need another 10 minutes.
4. Prep garlic & herbs. While veggies, are roasting, warm a tsp of oil in a saucepan on low to medium heat. Add freshly minced garlic and saute for 2 to 3 minutes with your herbs (rosemary, thyme). Try not to let garlic brown, otherwise it can become a bit bitter.
5. Blend. Let veggies cool after baking. Once cooled, scoop squash out from the skin, and place in high speed blender or food processor, along with the rest of the ingredients. Add as much veggie broth as you want to achieve desired thickness. Start with one cup at a time. We liked using about 3 cups.
Note: For wee shortcut, you can skip the garlic herb prep and simply add those raw to the blender. I haven't tried it myself but one of the recipes that inspired this 'mashup' version did just that (and had great reviews).
Nutrition
Per 1 cup (kid size or mini starter size – you will probably want more!)

Nutritional data should only be viewed as rough estimates. % Daily Values vary with age, weight, and other factors.
Credit
This recipe was inspired by Downshiftology and GirlGoneGourmet. Our custom version was lovingly and expertly prepared by our supernanny, Paula.