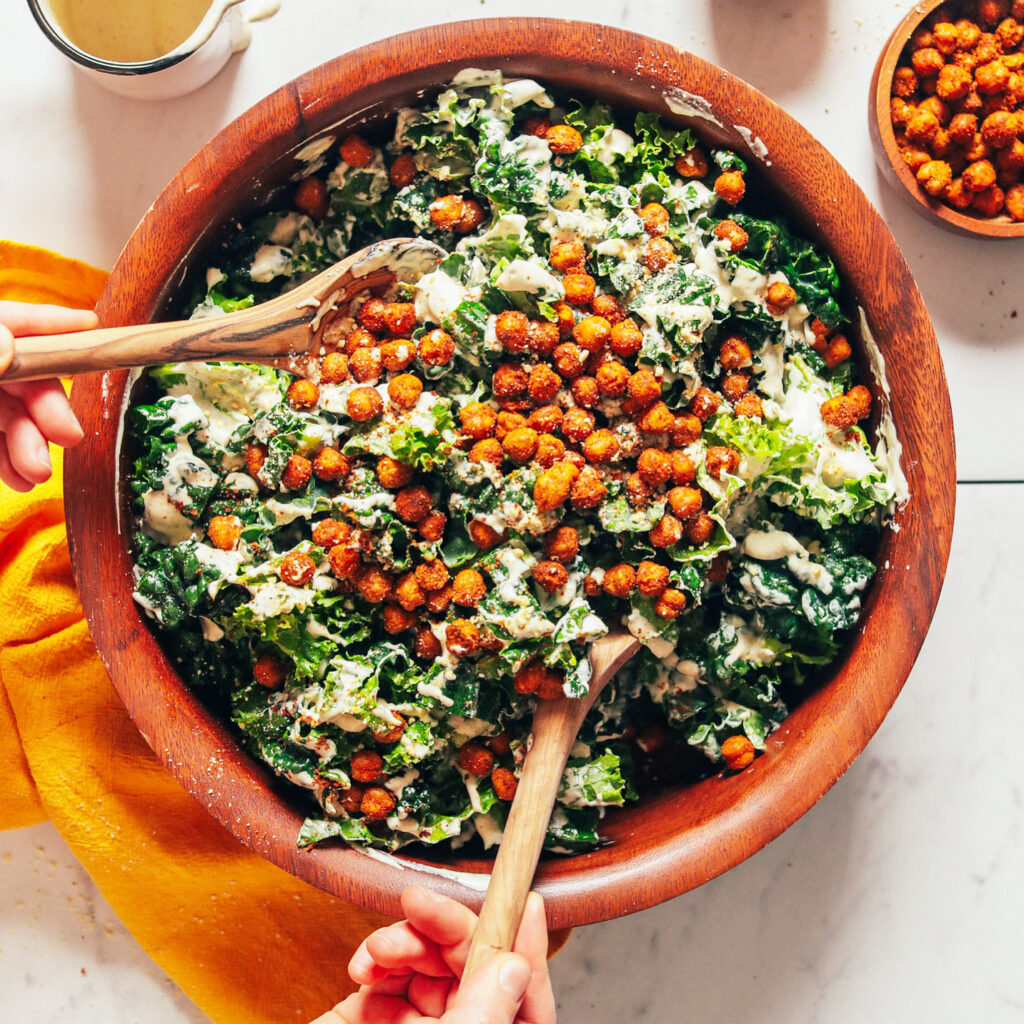 Ingredients
Greens & toppings
Kale of choice. Curly or dark lactino (aka "dinosaur") both work well. A mix of kale and romaine is also fabulous. Buy 2 bunches – you will have lots of dressing! 
Crunch factor (choose croutons or roasted chickpeas –  buy or DIY)
Get cheesy: I highly recommend this DIY vegan parmesan. It's a staple in our fridge.
Get smokey: smoked almonds; smoked tofu; coconut 'bacon'; veggie 'bacon'
Get sweet: cherry tomatoes
Get silky: avocado
Get hearty: quinoa quinoa (cook according to package, and let rest first)
Dressing
Core Ingredients
1/2 cup raw, unsalted cashews (will need to be soaked!)
1/4 cup white wine vinegar
2 Tbsp olive oil*
3 cloves garlic
2-3 tsp dijon mustard
2-3 Tbsp fresh lemon juice (one lemon) * plus extra lemon for garnish
salt & pepper
Optional ingredients
2 tsp capers in brine (for saltiness)
1-2 Tbsp nutritional yeast (for umami and nutrient boost)
1 tsp maple syrup (we all know what this does!)
Subs:
* For lighter, oil free, version, leave out the olive oil and replace with unsweetened plant milk, water, or aquafaba ("juice" from canned chickpeas).
Instructions
1) Soak your cashews. This can be overnight at room temperature or in freshly boiled water for 20-30 minutes.
2) Prep your greens. Little bugs love kale so bathe well in a sink full of water, then wrap lovingly in a tea towel to dry. If using the curly kind, simply tear little pieces off the stem. If using the dark "dinosaur" kind (lactino) use a knife to cut away from stem then chop into fork size chunks. 
3) Prep your crunch.
For a health upgrade, I like to make my own croutons. My hack is to brush 2 slices of whole wheat bread with olive oil or margarine and top with a generous dose of garlic (powder or minced). I pop them in the oven at 375 for about 10 minutes, until brown, then chop after toasting. The more gourmet method is to sauté garlic in olive oil in a pan, then toss bread squares in the oil.
For roasted chickpeas, I usually take the lazy route and buy them, but others swear by DIY. Here is a popular recipe by Minimalist Baker). 
4) Make your dressing
Add core ingredients to serious blender: cashews (without water); white wine vinegar; olive oil; garlic; dijon mustard; lemon juice
Blend well until smooth. Taste and add any optional ingredients (capers, nutritional yeast, maple syrup). Add a bit of water if too thick.
5) Assemble and serve!
Mix the dressing well into the kale. I find about 1/2 cup for a whole head of kale. Kale likes a little massage 😉 Letting it sit a bit helps to soften.
Add your fave toppings just before serving.
Serve: Fresh pepper rocks on this salad. Add a bit more salt if desired. A wedge of lemon is another nice touch.
Note: Dressing keeps in fridge for about 5-6 days so buy lots of kale and plan to share! 
Nutrition
Dressing only (per 2 Tbsp serving)

Nutritional data should only be viewed as rough estimates. % Daily Values vary with age, weight, and other factors.
Credit
Recipe is a mashup inspired by both Minimalist Baker and Forks Over Knives. Photo from Minimalist Baker.