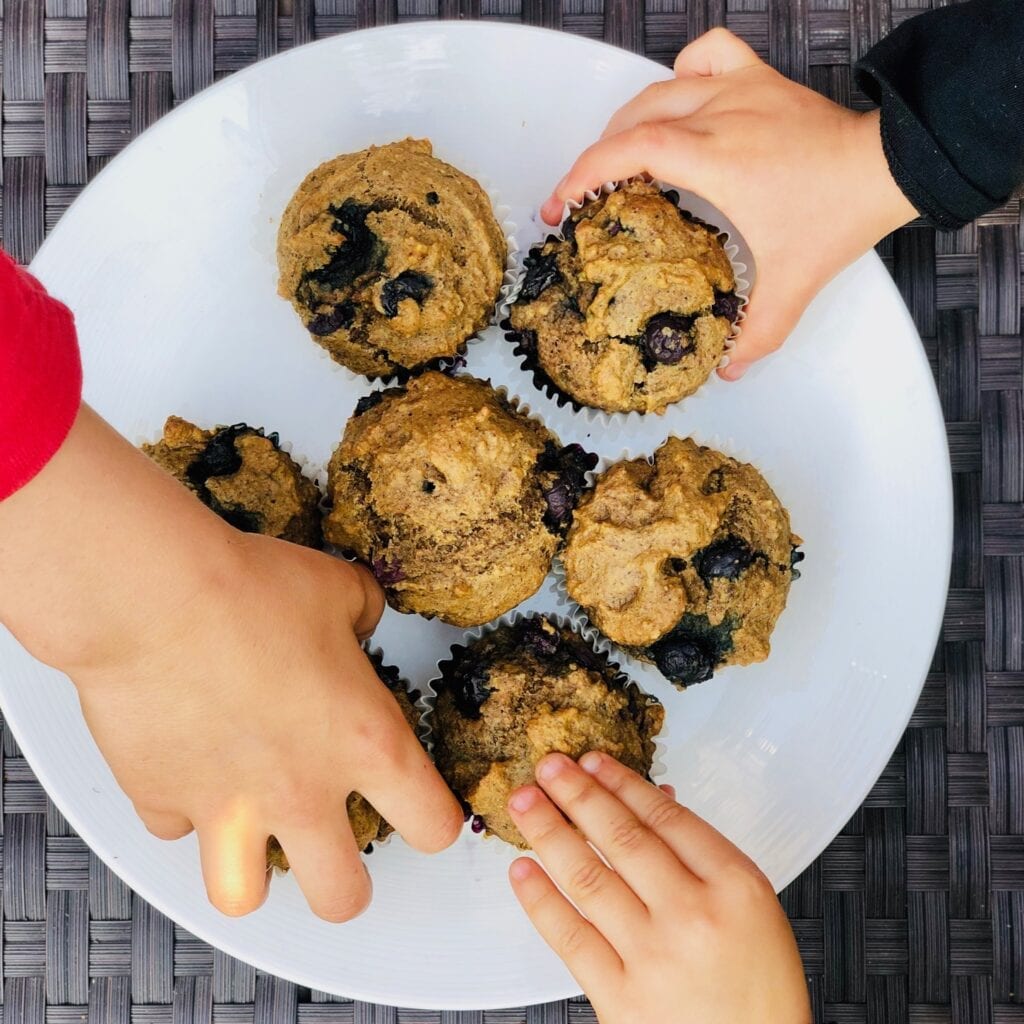 These fruity muffins are tasty enough to get the kids excited, yet healthy enough to make me feel good about serving them (and nabbing one for myself).
Inspired by my research on omega-3 fatty acids, they are loaded with ground flax, and use unsaturated vegetable oils. As usual, they are dairy-free, egg-free, and full of fiber (thanks to whole grains and fruit).
Note: I like to tease my hubby that his beloved Starbucks muffins are actually naked cupcakes. These do NOT taste like cupcakes as I have dialled down the sugar as much as possible. Feel free to dial up the sugar a bit to taste – they will still be a health "win".
INGREDIENTS
1 cup almond milk (unsweetened or not depending on your tastes)
1 tablespoon apple cider vinegar
1/2 cup ground flaxseed (freshly ground is best)
1 and 1/2 cups whole wheat flour
1 and 1/2 teaspoons baking soda
1/2 teaspoon cinnamon
1/4 teaspoon salt
1/4 cup vegetable oil (canola or sunflower)
1/3 cup maple syrup
1 teaspoon vanilla extract
1 medium to large banana (ripe)
1 and 1/2 cups Blueberries (fresh or frozen)
2 teaspoons orange zest (optional)
DIRECTIONS
Preheat oven to 375F/190C. Line a muffin tin with paper liners and grease well if needed (wipe with olive oil or margerine).
Mix together the almond milk and vinegar; set aside.
In a large bowl, combine together the ground flax seed, flour, baking soda, cinnamon and salt.
In a medium bowl, whisk together the maple syrup, oil, vanilla extract and orange zest, then add the milk mixture.
Make a well in the dry ingredients and stir in the wet ingredients with a rubber spatula until just moistened. Fold in blueberries.
Scoop the batter into the prepared muffin cups; about 3 tablespoons in each.
Bake the muffins until the tops are golden brown and a toothpick inserted in the center of the muffins comes out clean which is about 15-20 minutes.
Transfer the tin to a cooling rack and leave it there for 5 minutes. Then remove the muffins out of the tin and let cool completely
NUTRITION

The Percent Daily Values are based on a 2,000 calorie diet, so your values may change depending on your calorie needs. The values here may not be 100% accurate because the recipes have not been professionally evaluated nor have they been evaluated by the U.S. FDA. They often do not apply to children.
Recipe credit: Adapted from EgglessCooking.com through a team effort of yours truly and supernanny, Paula (who also baked them to perfection!)