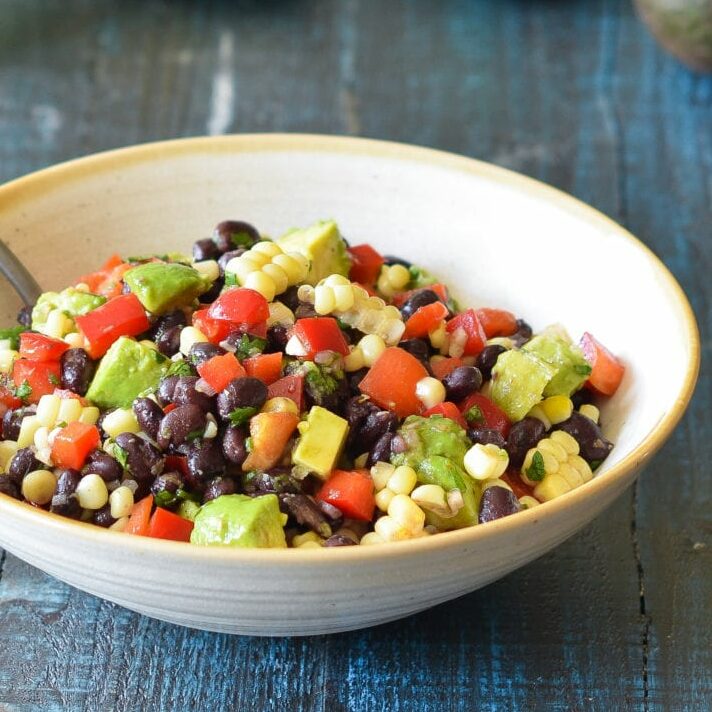 Creamy avocados, sweet corn, crunchy bell peppers, and savoury beans come together beautifully in this tangy crowd-pleaser.
This dish is fabulous for a simple summer picnic or as a potluck contribution. You WILL be popular! Enjoy solo, atop quinoa, or greens, or load into a taco shell or (whole wheat) pita.
Thanks to the generous avocado and beans, this dish rocks your fiber and potassium, two nutrients many of us fall short on. Together with the unsaturated fats and protein, this dish is sure to leave you feeling satisfied. For those keeping an eye on calories, mix it up with fresh romaine or as a lettuce wrap.
Fun fiber fact: One half avocado has 5 grams fiber – same as a slice of whole grain bread!
Ideally, make the salad in advance so it can marinate and add the avocado at the end.
INGREDIENTS
2 15-ounce cans black beans (look for low sodium)
3 ears fresh cooked corn (fresh is best but can sub 1 can or 1 cup frozen, steamed)
2 ripe hass avocados
2 red bell peppers
2 cloves garlic
2 tablespoons minced shallots (1 medium shallot) – sub green onion.
1/4 teaspoon cayenne pepper (add separately if catering to spice-o-phobes)
1 tablespoons sugar (to taste)
6 tablespoons extra virgin olive oil
1 teaspoon lime zest (zest limes before juicing them!)
6 tablespoons fresh lime juice
1/2 cup chopped fresh cilantro, plus more for garnish
salt to taste (~1 tsp)
DIRECTIONS
Prep corn. If using fresh, shuck corn and place in a large pot of boiling water with a sprinkle of salt for 3-5 minutes.
Rinse and drain black beans
Chop chop! Dice red bell peppers, mince garlic and shallots
Mix all ingredients EXCEPT AVOCADO in a large bowl.
Let the salad marinate in fridge for a few hours (if possible, but not end of world)
Gently mix in chunks of avocado before serving.
SERVE
Serve solo, atop quinoa, or load into a taco shell or (whole wheat) pita.
For a lighter choice, mix into a bed of greens (romaine and arugula!) or spoon into full romaine leaves as a wrap.
NUTRITION
Per ~ 1 cup serving

The Percent Daily Values are based on a 2,000 calorie diet, so your values may change depending on your calorie needs. The values here may not be 100% accurate because the recipes have not been professionally evaluated nor have they been evaluated by the U.S. FDA. They often do not apply to children.
Credit: Photo and recipe (adapted) from Jenn Segal of Once Upon a Chef. Her website is not vegan but contains many mouthwatering , well-tested plant-based recipes.
Thanks also to my brother Ez for introducing me to this winner 😉