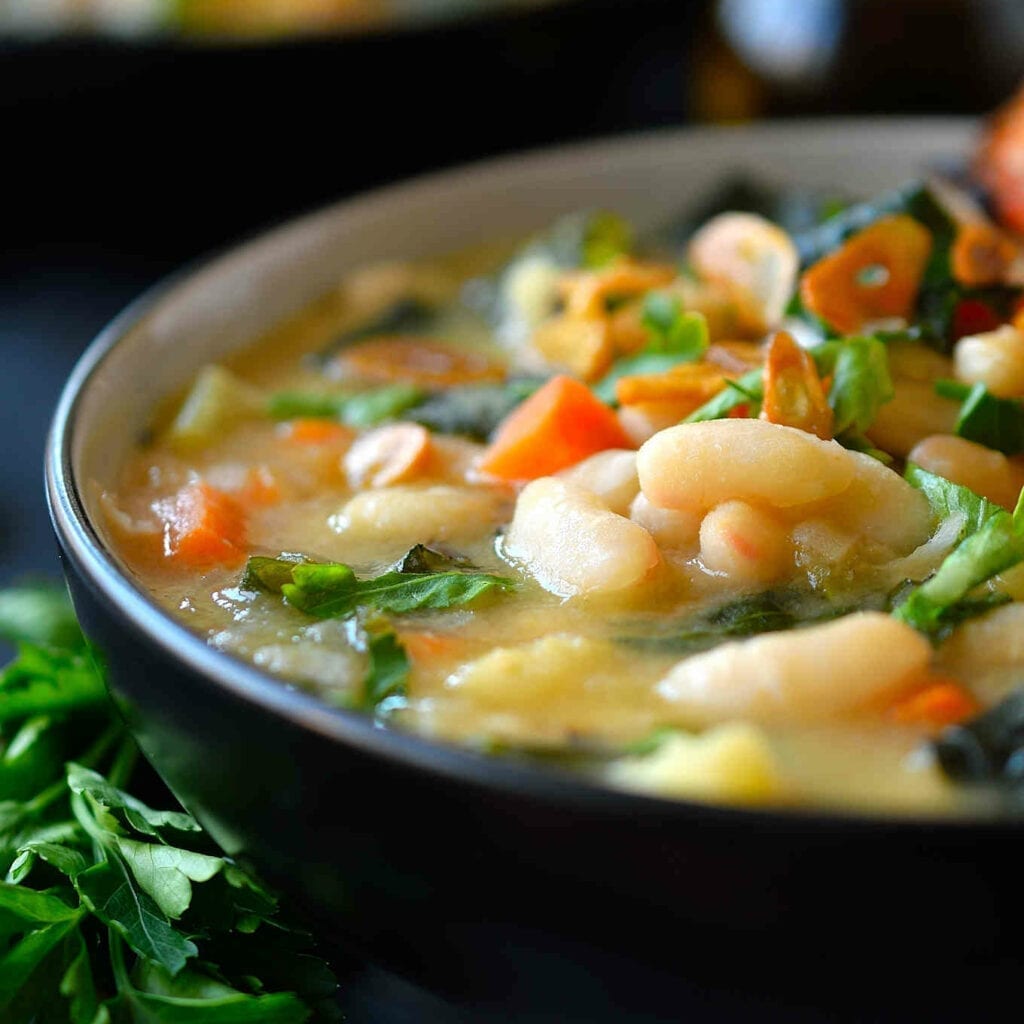 Savour a bowl as a light lunch, or let it take center stage in a satisfying soup and salad dinner. Don't forget the crusty whole wheat bread: one slice plain and another with avocado for my jungle boy.
Nutritionally, this soup scores an A+. A modest serving (1 cup) makes a serious dent in your fiber, protein, iron and Vitamin A. Its only liability is sodium content, which can get very high if you don't choose your ingredients wisely. To keep things in check, choose low sodium bouillon (we love Better than Bouillon reduced sodium paste), and hunt down canned beans with no salt added – or boil your own beans from scratch.
Fun Fact: All plants and animals use sodium to perform basic life functions so you will find sodium in all living foods – including kale and "no salt added" beans. 

Adults should aim for 1,500-2300 mg of sodium per day. Aim lower for your kids, though zero is not the goal. Learn more about optimal sodium intake.

One of the best things about this soup is the fiber. The benefits of a fiber-rich diet start in your gut but extend to your whole body. Yet, it is one of the most neglected nutrients in North America, with the vast majority of us falling far short of the recommended intakes (the average is about half of the RDI).
Ingredients
2 tablespoons olive oil
5 cloves of garlic
1 medium onion
2 carrots
2 stalks of celery
2 bay leaves
2 sprigs of rosemary, leaves removed and finely chopped, stems reserved
4 cups (1 litre) vegetable stock (Try Better Than Bouillon reduced sodium)
3 regular cans (400 ml) or 2 large cans (500ml) white beans – or cook 1 cup beans from scratch.
2 cups chopped kale
1 ½ teaspoons miso paste (optional, but provides a very nice hit of umami).
1 tablespoon lemon juice (optional)
Pepper, to taste
Fresh parsley or cilantro, for garnish (optional)
Directions
Prep
Prep veggies. Dice the onion. Chop the carrots and celery. Press the garlic (if using fresh). Tear kale off leaf into large chunks.
If using canned beans, open the cans and rinse well in a colander.
Prepare miso paste. Dissolve miso paste in 1/2 cup of boiling water and set aside.
Prepare stock. If using a paste or cubes, boil water and mix all the bouillon into a single cup. Then, when recipe calls for stock, add one cup of concentrated broth along with the rest of the water (3 more cups).
Cook
Heat the olive oil in a medium-sized pot over low heat. Add the sliced garlic and fry very lightly. You don't want it to turn brown. Keep it gentle.
Add the onion to the oil and fry until transparent. Keep the heat low. Slow and gentle will get you a better flavour.
Turn up heat a titch then add the carrots, celery, bay leaves and rosemary stems. Fry for a few minutes to soften the veggies.
Add the stock, miso paste, beans, and kale; bring to a boil then reduce to a simmer. Let simmer for about 20 minutes – or more. When done, remove bay leaf and rosemary stalk.
Add lemon juice and adjust thickness using an immersion blender. A bit of blending thickens the soup nicely but still showcases its glorious ingredients. You can stop there, or consider blend all the way for a green monster soup (keep the kale out for a more neutral colour).
Garnish as desired. Try parsley, cilantro, and fresh ground pepper, perhaps another squeeze of lemon. To take it up another notch, fry up a few rings of fresh garlic to a crispy brown.
Nutrition
Per small (1 cup) serving


Nutritional data should be viewed as rough estimates only. % Daily Values vary with age, weight, and other factors.
Credit
Big thanks to
Cilantro & Citronella
for this recipe. It's one of the few that I didn't feel compelled to tweak! Hats off, and thanks, to our supernanny, Paula, for nailing it, as usual.