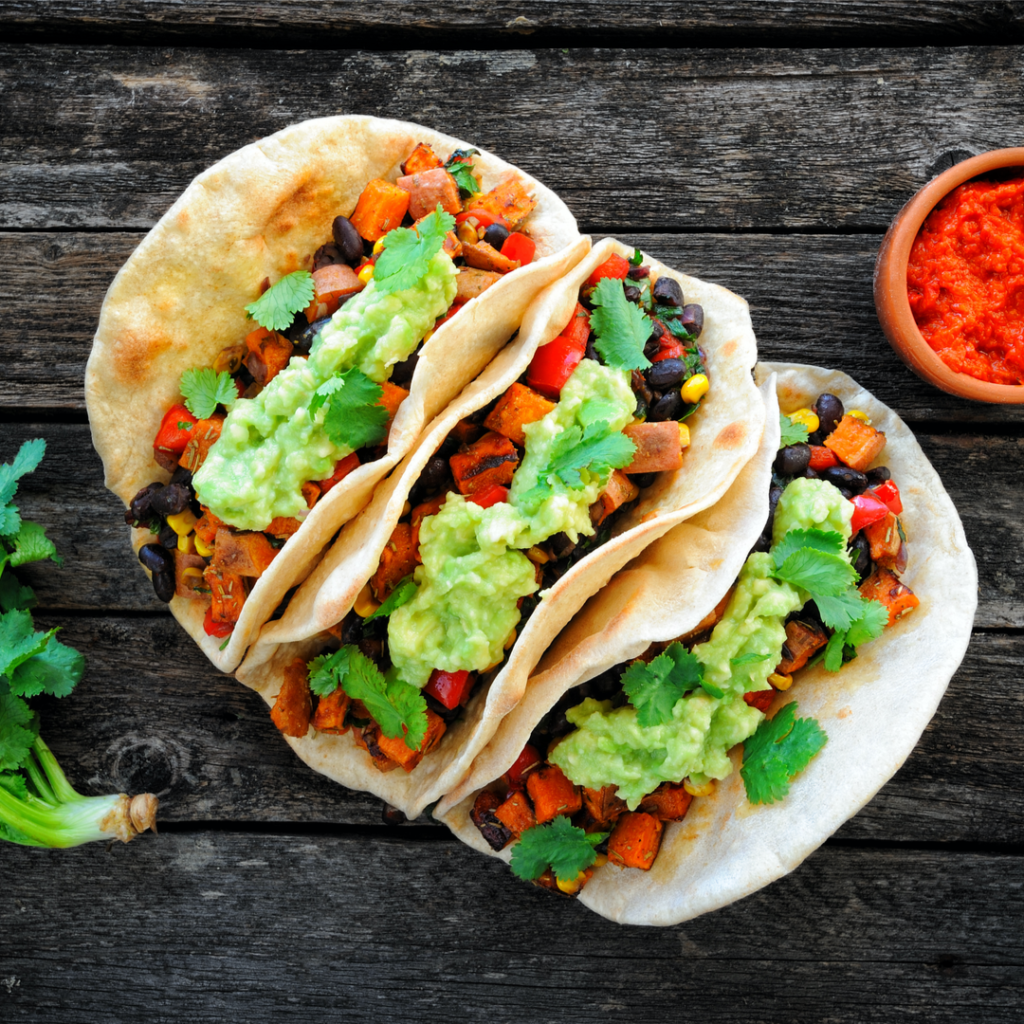 When dinner rolls around and you're caught with your pants down, these bountiful bean tacos are a fabulous option.
I'm not sure what I love most about this meal – the taste, the lack of dishes, or the fact that the kids don't need any prodding to eat.

The other great thing about these tacos are easy to tweak to everyone's tastes.  I favour whole black beans, the kids like refried beans, and hubby often likes to add some plant-based meaty crumbles (from Impossible Foods or Beyond Meat). I go cheeseless, and lean on the avocado for creamy satisfaction, while hubby is a cheese freak and adds it liberally. The kids like both dairy cheese and selected plant-based alternatives (Daiya Original is their fave).
Your taco's nutrition score depends on your specific choices. Here are some considerations:
Don't skimp on the beans. They're loaded with protein and fiber.
Keep an eye on the sodium if you're buying refried beans or canned whole beans. Check the label.
Soft taco shells have less added fat and more protein, but hard shells are practical for kids.
Pantry Tip: Always keep a few avocados 'in stock' so you have a ripe one handy. Beyond taco night, they will serve you well in salads, on toast, or in smoothies and puddings.
INGREDIENTS
Makes ~6 tacos
6 taco shells (hard or soft)
Toppings:
1 can beans (whole black beans or refried)
1 cup chopped lettuce (romaine)
2-3 tomatoes on the vine, chopped
1/2 red onion, diced. 
1 bunch cilantro
1 cup corn niblets (fresh or frozen, cooked)
1 cup salsa
Extra goodness: Roasted red peppers (buy or prepare your own!) or roasted sweet potatoes.
Guacamole:
2 avocados, smashed
1/4 yellow or red onion, minced
1 tsp garlic, minced
Juice of 1/2 fresh lime
Salt to taste
INSTRUCTIONS
Dice toppings: lettuce, tomatoes, onion, cilantro
Prepare guacamole: smash avocado with fork, add minced onion, garlic, lime juice. Add salt (and possibly more lime) to taste.
Assemble tacos as desired – usually (warmed) beans first, then veggies.
Tip: If you opt to add cheese, try microwaving shredded cheese mixed with beans for less mess and faster serving!
NUTRITION
For a hard shell taco with refried beans (see upgrade tips)