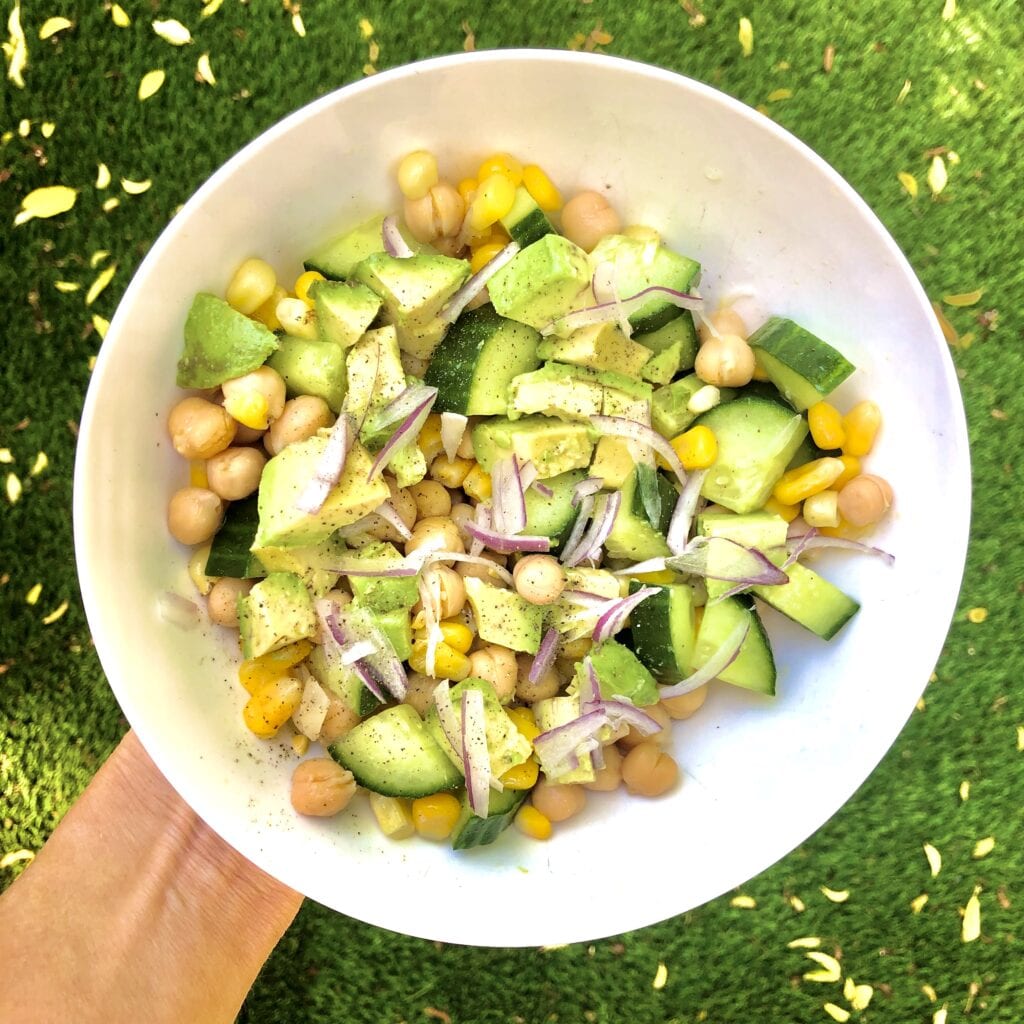 This bright, tangy, summery chickpea salad will tickle your tastebuds, and leave you feeling satisfied, yet light enough to play in the sunshine.
It brings together sweet corn and sour lemon; crunchy cucumber and creamy avocado, with a hint of salt to finish. Let's be honest… everything is delicious when you have either summer corn or avocado. Pair them, and it's a party in your mouth!
Nutrient density is always top of mind when I'm feeding myself and my three kids, who would usually rather play than eat. Thanks to the star ingredient, chickpeas (or Chana, my namesake!), this salad gets an A for delivering ample energy (calories) and solid doses of protein, fibre, and iron.
This tasty, 100% plant-based dish (dairy-free, vegetarian, vegan) makes a great light lunch or potluck contribution, either served solo, or along with green lettuce wrappers. For a heartier meal, throw in some quinoa, or pair with a piece of seedy whole grain toast (perhaps with more avocado, and some tomato on top?).
Bonus: The ingredients and ratios are so simple that this recipe can easily be committed to memory!
Ingredients
(serves 2)
1 cup chickpeas
1 cup cucumber, chopped (we use long English, or baby cucumbers unpeeled)
1 cup corn kernels (fresh or frozen)
1 avocado (*add last)
1/4 cup red onion or a few chives
Dressing:
Juice of 1 fresh lemon (2-3 Tbsp) *lime works too!
1 Tbsp oil (we favour avocado or olive oil)
Optional: a hint of sweet (e.g. agave)
Boosts: To really jazz things up, consider adding a fresh herb – either parsley, cilantro, basil or mint could all work!
Rinse the chickpeas with water (place in strainer and run for a few seconds)
Prepare the corn (either boil fresh corn for few minutes, or microwave frozen corn)
Chop the cucumber into bitesized pieces
Chop onion or chives finely.
In a medium serving bowl, mix together the chickpeas, cucumber, corn. Add the lemon (or lime) juice and olive oil and mix well.
Add the avocado: Cut the avocado in half, lengthwise. Cut lines to make a grid, then use a spoon to gently scoop out the pieces.
Taste, then add salt & pepper as desired. I highly recommend a dash of both!
Serve immediately, or let marinate in fridge until needed. Lasts 3-5 days in fridge.
Nutrition
Per 1 of 2 servings

Nutritional data should only be viewed as rough estimates. % Daily Values vary with age, weight, and other factors.