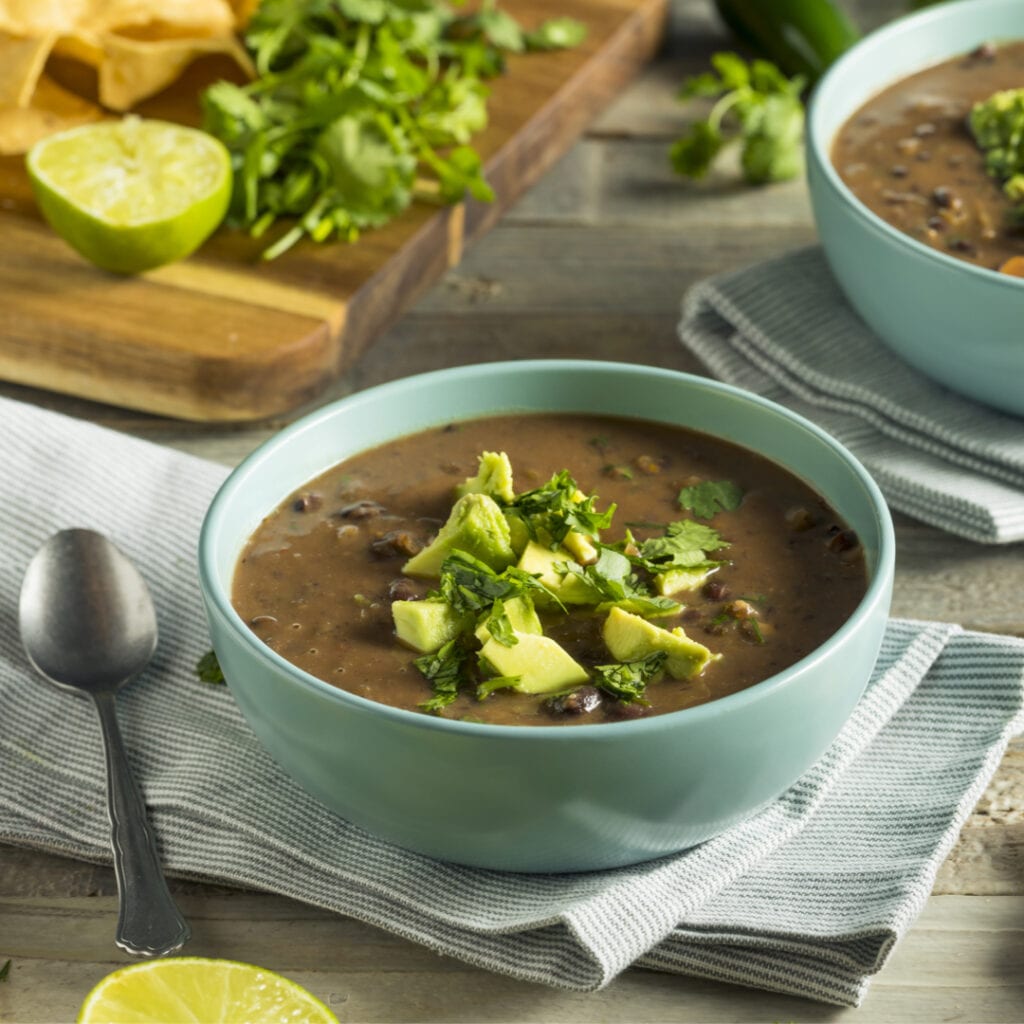 This satisfying black bean soup is flavourful, hearty, and gloriously simple. It's bursting with satiating microbiome-fueling fiber and delivers impressive doses of protein, iron, vitamin A and vitamin C .
Serve with avocado, a squeeze of fresh lime, a bit of cilantro, and a side of tortilla chips. A generous sprinkling of corn isn't optional, according to my kids.
Enjoy straight up, build a grains and beans bowl, or load up a whole wheat tortilla (try rice, beans, fresh tomato salsa and guacamole).
Ingredients
Makes about 9 cups of soup
2 tablespoon

s extra virgin olive oil

2

medium yellow onions

2 medium 

carrots
1 bell pepper (we love red)

6

garlic cloves

6 teaspoon

s ground cumin

4

cans (15 ounces each) black beans

4 cup

s (

32 ounce

s) vegetable broth (reduced sodium – we love Better than Bouilon)

2-4 tablespoon

s fresh lime juice (some for cooking and some to garnish)
Salt and pepper to taste
Heat: If you like it hot, add a splash of hot sauce or red pepper flakes.
Toppings: Corn! Avocado! Cilantro! More fresh lime! Any combination of these flavour boosts really livens things up.
Note: This super simple recipe used canned beans. Dried beans also work wonderfully but  require a bit of planning to allow for pre-soaking and cooking.
Instructions
Prep:
Chop: Dice the onion; chop the bell pepper and carrot; mince garlic if needed.
Prep beans: If using canned, simply rinse and drain. If using dried, soak first overnight (or quick soak in boiling water 1 hr)  then bring to a boil and simmer for one hour. They can cross the finish line with the rest of the soup.
Cook:
Heat the olive oil over medium heat in your favourite soup pot for 1-2 minutes. Add the onions, carrots and bell pepper along with a touch of salt. Cook, stirring occasionally, for ~10 to 15 minutes until everything softens.
Stir in the garlic, cumin and red pepper flakes and cook until fragrant, about 30 seconds. Add beans and broth and turn up heat to simmer over medium-high heat. Cook, reducing heat to a simmer and maintain for about 30 minutes, until beans are tender (or longer if you used dried beans).
Blend until smooth, either using immersion (hand) or by cooling first, then transferring to a blender.
Pour the soup back into the pot. Add a bit of fresh lime juice (about 2 Tbsp) saving more for individual portions. Add salt and pepper to taste. 
Serve! Set out small side dishes with a variety of toppings and let each guest create their own masterpiece!
Nutrition
Per 1 cup (kid size or mini starter size – you will probably want more!)

Nutritional data should only be viewed as rough estimates. % Daily Values vary with age, weight, and other factors.
Credit
This recipe was adapted from Cookie and Kate. Check her out for more plant-based deliciousness!.