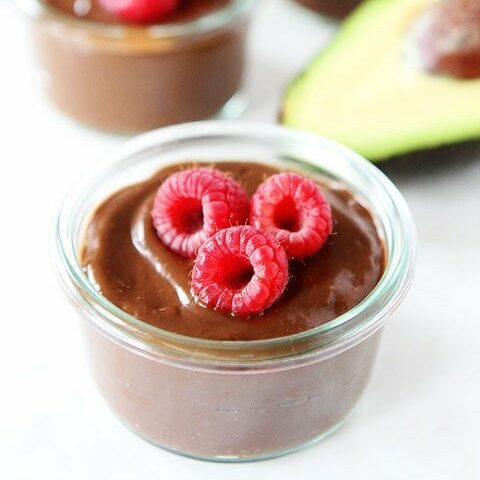 Too many ripe avocados? Treat yourself and your kids to this rich, creamy, chocolate mousse (or is it pudding?).
This little pot of indulgence is not only delicious, but boasts a short ingredient list, minuscule prep time, and a fiber content that rivals a wholesome snack. Iron content is also noteworthy, if you choose your cocoa powder wisely. It's also dairy-free and plant-based.
This recipe is just one of many that prove that you really can have it all – healthy, delicious, and simple!
We made this recipe last week for my birthday in fifteen fun, messy, spatula-licking minutes.
Ingredients
For 4 dainty (but filling) servings 
2 ripe medium avocados (pitted and peeled)
1/4 cup cocoa powder
3 Tbsp your fave milk (we used almond)
 1 tsp pure vanilla extract
3 Tbsp maple syrup
Optional boosts:
1/2 cup cashew cream (homemade). Full fat coconut cream works too.  My son devoured it with just the basics, but I like the extra creaminess and muting of the avocado. I promise – it's really simple to make (see cashew cream.)
1/4 cup melted dark chocolate chips (we like Enjoy Life brand). Melt in microwave or in a small saucepan. We skipped this decadence boost.
Fun toppings: Berries; chocolate shavings; coconut flakes
Instructions
Put everything in blender and go to town! Add more milk if too thick or and a bit more syrup to sweeten (or melted chocolate chips).
Chill for 2-3 hours if you have patience, otherwise dig in! Serve with your fave toppings. We kept it simple and elegant with fresh raspberries. Yuuum!
Nutrition
Per ~1/2 cup serving.*including cashew cream boost (but not dark chocolate chips)

Nutritional data should only be viewed as rough estimates. % Daily Values vary with age, weight, and other factors.
Credit
Photo from Two Peas and Their Pod. Recipe adapted from Two Peas and Their Pod & Chocolate Covered Kate. Thank you for the inspiration!