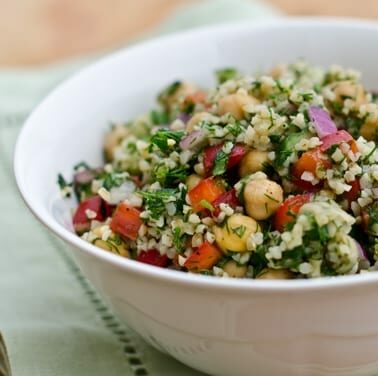 This colourful salad, built around fluffy bulgar and creamy chickpeas, makes for a tasty light meal or potluck contribution. It's tangy with a hint of sweetness, and serves up a balanced mix of carbs, proteins, and fats, as well as a hearty dose of vitamins and minerals.
This dish is similar to Israeli tabouli but is hearty enough to take center stage. Enjoy it as-is, throw it into a whole grain wrap with hummus, or mix into a big bowl of greens to really satisfy!
Bulgar a wheat-based grain that is very similar to couscous. They are both light and fluffy, with a mild flavour, ready to soak up whatever sauces and herbs you throw their way (try them with our fave: Glory Bowl. Bulgar is nutritionally superior because it is a whole grain (unlike couscous) which gives it a much higher fiber content and better blood sugar profile. Like couscous, bulgar is partially cooked, which makes it faster to prep than many other whole grains.
Bulgar has a solid 12% of calories from protein, enough that most of us don't need to fret about adding more, though the chickpeas boost this further (provided you go easy on the oil). It's also rich in manganese and B vitamins.
INGREDIENTS
1 cup bulgur uncooked (light or standard)
1/3 cup red onion
1 red bell pepper (orange or yellow work too)
1 small English (or hothouse) cucumber
1 can chickpeas (regular / 15 oz)
2 Tbsp fresh lemon juice (from 1 lemon)
1 Tbsp balsamic vinegar
2 Tbsp high quality extra virgin olive oil
1/2 cup finely chopped fresh dill*
1/3 cup finely chopped fresh parsley*
1 large garlic clove
1 teaspoon cumin
1 teaspoon sugar (optional)
Salt & pepper to taste (don't skip the salt!)
*If anyone in your crew isn't a fan of either dill or parsley, simply put them on the side. Dare I say you can also omit one of them, given there are plenty of other flavours in this dish.
DIRECTIONS
Prepare the bulgar. Add 2 cups of boiling water, cover, and let set while water absorbs – 25-30 minutes. Or, boil as you would rice – boil and reduce to very low simmer for but cook for only 12 minutes, then let rest for 10 minutes before you fluff. If you opt to boil, don't forget the rest!
Prep veggies. While bulgar is cooking, get chopping! Dice onion, bell pepper and cucumber (small bites). Finely mince the garlic, dill, and parsley.
Begin assembling the chickpea salad in a large serving bowl. Drain and rinse the chickpeas, then dump them into the bowl.
Add the diced onion, bell pepper, cucumber, dill, parsley and minced garlic to the chickpeas. Squeeze in the lemon juice. Add the balsamic vinegar, olive oil. Finish with cumin and a sprinkle of salt and pepper. Give it a taste and decide if you want to add the sugar.
SERVE
Mix the cooked, fluffed couscous together with the chickpea mix, and serve.
Do this once for the whole bowl or tweak servings please your crew. Some may prefer heavier on the beans, others heavier on the grains.
NUTRITION
Per ~ 1 cup serving

The Percent Daily Values are based on a 2,000 calorie diet, so your values may change depending on your calorie needs. The values here may not be 100% accurate because the recipes have not been professionally evaluated nor have they been evaluated by the U.S. FDA. They often do not apply to children.
Recipe credit: Adapted from Once Upon a Chef