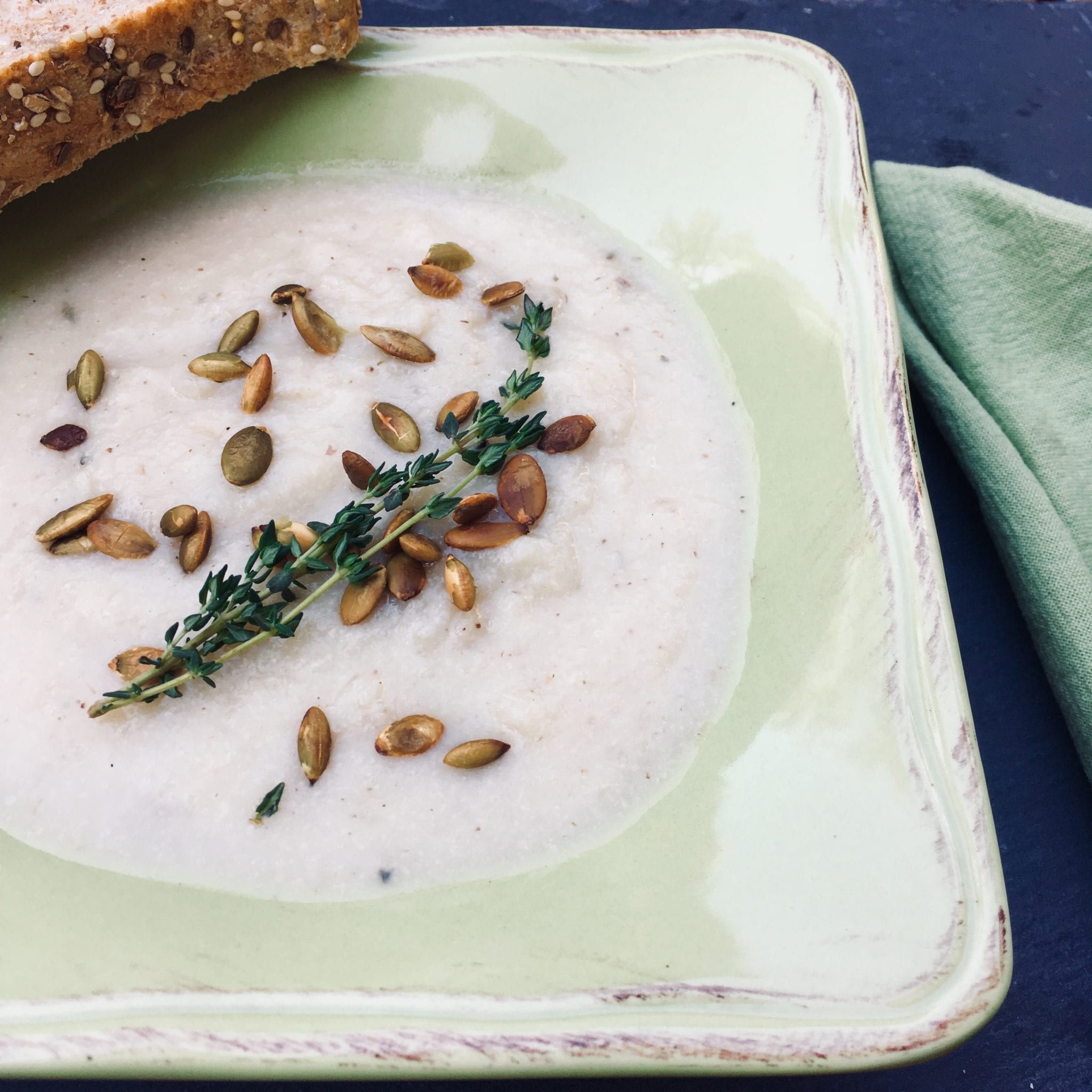 We call this magical cauliflower soup because none of my kids are huge cauliflower fans, yet they get deliriously happy when they eat it this soup – and cauliflower is the main ingredient! I love that it's low in sugar and high in savoury yumminess, supporting my  'celebratesavoury' campaign.
This soup is low in calories, and suitable for those on a lower carbohydrate diet. I recommend serving with a hearty salad (throw in some beans, nuts or seeds!) along with bakery-fresh multigrain bread to make a full meal. Play with the amount of cashew cream to suit your tastes (and low-versus-high calorie goals). You can also amp it up with one or more  toppings, including croutons, roasted chickpeas, or pumpkin seeds.
Ingredients
For 6-8 small servings (~ 1 cup)
1 large head cauliflower
1 1/2 Tbsp olive oil
4-5 cloves garlic, smashed with skins on
1/2 large yellow onion
2-3 sprigs thyme, stems removed
3 cups vegetable broth (fave = Better than Bouillon low sodium)
3/4 cup of cashews
Salt & pepper to taste
Prep
Soak 3/4 cup of cashews in 1 cup of boiling water.
De-stem the cauliflower and break into florets.
Dice the onion.
Preheat oven to 450 degrees F. Line a baking sheet with aluminum foil or parchment paper.
Cook
Roast the cauliflower. Add the cauliflower florets to the baking sheet and 1 tablespoon olive oil, about ½ teaspoon salt and grind some pepper over it all. Using your hands, mixing it all in, massaging the ingredients into the cauliflower. Add the smashed garlic (skins still on) to the baking sheet. The skins help to prevent it burning; you'll remove them afterwards. Roast for 15 minutes at 450 F.
Meanwhile, in a large high sided pot over medium high heat, sauté the onions in the ½ tablespoon olive oil until fragrant and browning, about 8 minutes, stirring infrequently.
Add the roasted cauliflower, the garlic (skins removed), 2 sprigs of thyme and vegetable broth. Mix together with spatula.
Bring to a boil, then reduce to a simmer for 15 minutes, stirring occasionally.
While soup is cooking, prepare the cashew cream.  Simply blend the cashews and water.
Blend the soup well – it should be a puree. Can be done in the pot with hand-held immersion blender, or by pouring into a high-powered countertop blender (if so, cool first).
Taste and add salt and pepper as desired.
Cashew cream can be added to pot all at once before serving or added to each dish.
Serve
Pour into bowls and add your choice of toppings. Good options include crushed red peppers, extra thyme and / or extra cashew cream. Croutons or roasted chickpeas or pumpkin seeds would also work well to make this dish more filling and adding a bit of crunch.
Nutrition
Per ~ 1 cup serving

Credit
Credit to super nanny Paula for perfect execution as usual 🙂