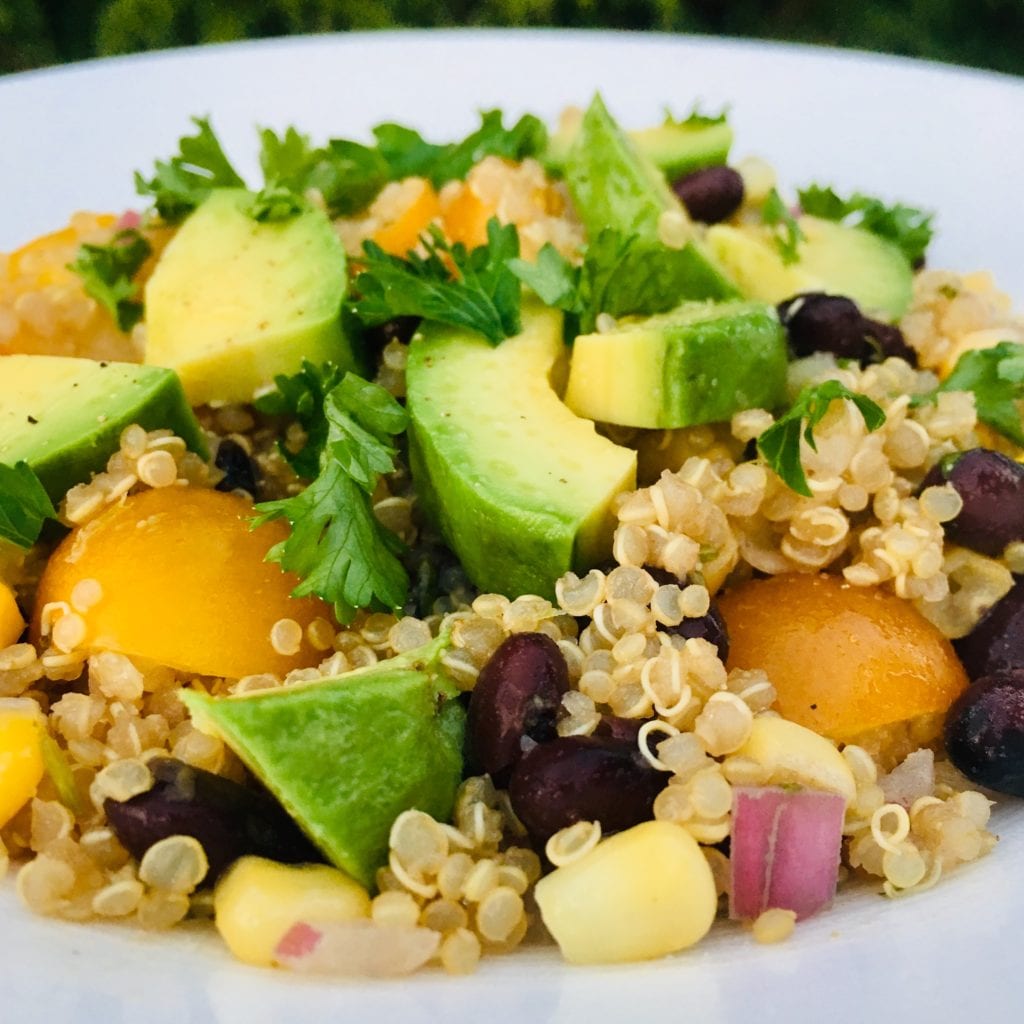 This killer quinoa salad is a surefire hit at a potluck (or at home!), and is easy to make, with simple ingredients. It serves up a nice combination of tanginess (thanks to the cilantro & lime), sweetness (corn and tomatoes), and creaminess (avocado).
Nutritionally, this dish is 'on point' when it comes to good fats, proteins, and iron, and is a superstar when it comes to fiber. For those seeking lower carb intake, simply dial back the quinoa, or serve the bean mix on greens (or solo).
Ingredients
Makes ~ 6 servings (1 cup)
– 1 Cups Vegetable Broth (I love "Better than Boullion" reduced sodium vegetable flavour)
– 1 Cup Quinoa (red or white), cook per directions below
– 1-15 oz Can Black Beans, drained and rinsed
– 1 Cup Corn Kernels (frozen or fresh)
– 1/2 or 1 full Avocado, cut into chunks
– 1 Cup Grape Tomatoes, halved
– 1/2 Cup Red Onion, finely diced
– 1 Tbsp Olive Oil
– 1 Tbsp fresh lime juice (more/less to taste)
– Zest of 1/2 Lime
– 1/2 c. fresh Cilantro, diced
– 2 Tbsp White Wine Vinegar
– 1 tsp Cumin
– Salt and Pepper (optional)
Directions
1. Cook 1 cup quinoa with 1 cup of veggie broth and 1/2 cup water according to package directions (~15 min).
2. While quinoa is cooking, prepare the rest of the ingredients.
— Dice onion, halve the cherry tomatoes, zest the lime, dice the cilantro
— Drain and rinse the black beans
— Thaw the corn, if frozen
3. Mix the beans and veggies together, then dress with olive oil, white wine vinegar, cumin, lime juice and lime zest. Mix well. Season with salt & pepper. Adjust dressing as desired. Let sit to marinate, if time permits, or dig in 🙂
Serve
You can play around with the ratio of quinoa to bean goodness. We usually mix together roughly equal parts quinoa and beans mix. You could also prepare a bed of quinoa, and put the bean mix on top, or eat just the bean mix (lower carb option).
Nutrition


* The Percent (%) Daily Values are based on an average adult, who needs approximately 2,000 calories and do not represent the needs of children. Furthermore, they are not 100% accurate because the recipes have not been professionally evaluated nor have they been evaluated by the U.S. FDA.
Recipe credit to Karmatarian
If you want to get fancy, try her cilantro dressing. We find that our simpler version still hits the spot.
Credit to supernanny Paula for rocking this salad 😉
PS Those with keen eyes will note that I sprinkled parsley on top to spruce up the photo. I highly recommend cilantro rather than parsley for the actual recipe!