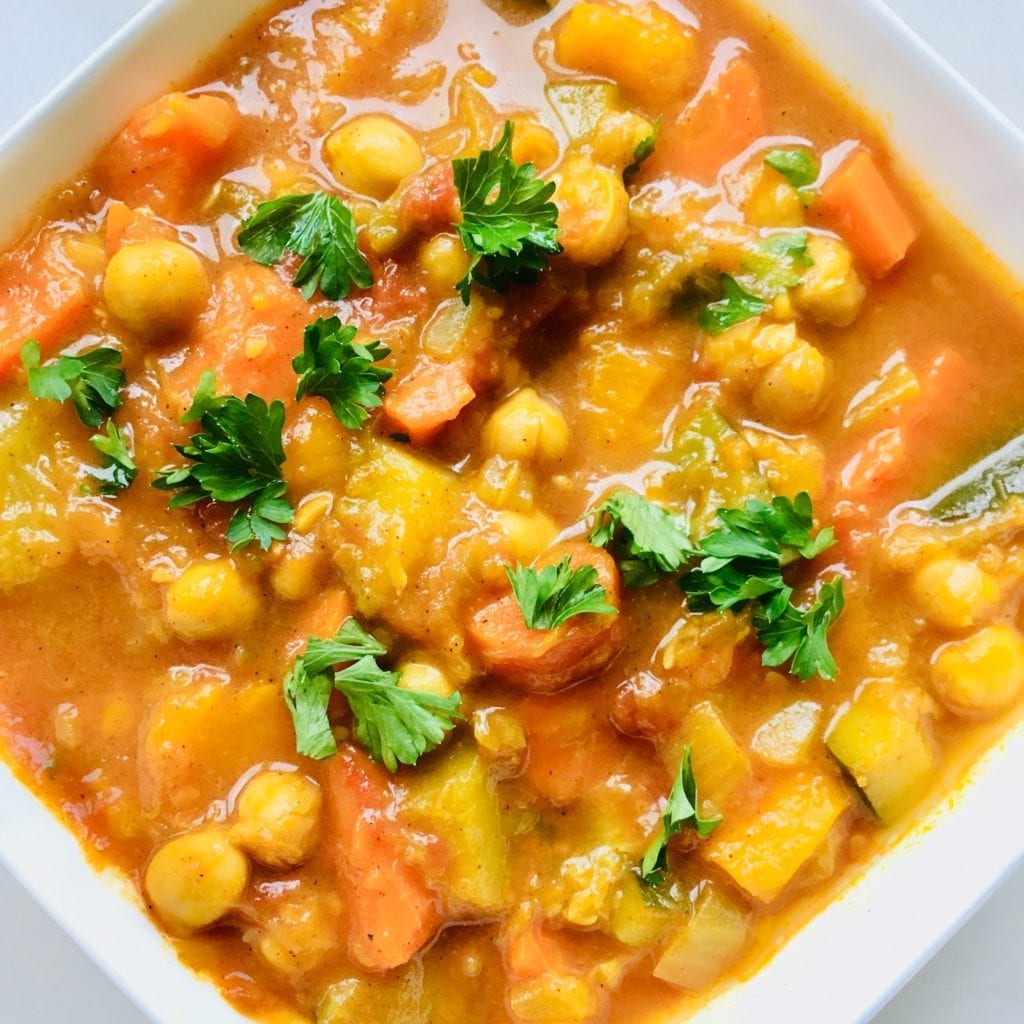 This dish has an exotic, middle eastern taste, yet is a reliable hit with a wide range of tasters, from toddlers through to adult dinner guests. The magical combination of spices makes my kids devour foods they may otherwise reject.  
Things I love about this recipe:
One pot meal! Need I say more.
Leftovers! This recipe is generous, so a family of 4 can expect to enjoy leftovers for at least one more meal.
Flexible! You can dial up or down the heartyness factor by serving solo or atop whole grains (try whole wheat couscous or quinoa).
On the nutrition front, this dish rocks for fiber, and is very solid for iron and protein as well. Vitamin A and C are off the charts, but those are not usually hard to come by if you eat any reasonable amount of fruits or veggies. See more info below the recipe.
Makes about 10-12 cups
1 medium yellow onion (diced)
 ½ head of green cabbage (coarsely chopped)
1-2 zucchinis (coarsely chopped)
3 carrots (coarsely chopped)
1 acorn squash or ½ butternut squash (peeled and chopped into large chunks)
2 cans (or 1 large can) of stewed or fire roasted tomatoes (diced)
2 cans chickpeas low sodium (or 1 large can) (drained and rinsed)
½ cup raisins (we like golden but any will do)
2 Tbsp margerine
1-2tsp turmeric
1-2 tsp cinnamon
1-2 tsp ground ginger
1/2 tsp allspice
saffron threads (sprinkle a few)
2 cups vegetable broth or water (fave is Better than Bouillon reduced sodium)
Optional: cilantro (or parsley) and coconut yogourt (or dairy yogourt) to serve.
Prep
Dice onion, and chop veggies into bite size chunks (peel the squash first with sharp knife).
 Rinse and drain chickpeas.
Cook

In a large pot, melt margarine over medium-high heat. Add the cabbage and onions; cook, stirring until the vegetables are softened, about 4 minutes.
Stir in the spices: turmeric, cinnamon, ginger, allspice, and saffron until absorbed.  Add the broth and bring to a boil.
Add the carrots, squash, tomatoes; cook, covered stirring occasionally, for 20 minutes or until vegetables are tender. Taste, and add more spices if desired.
Add the zucchini, chickpeas and raisins; cook covered, 10 minutes longer or until stew is slightly thickened.
Serve
Serve alone or over a bed of couscous or quinoa. Add a scoop of plain coconut yogourt (or dairy yogourt) and a few sprigs of cilantro.
Nutrition
Per ~ one cup serving (stew only).
* The Percent (%) Daily Values are based on an average adult, who needs approximately 2,000 calories and do not represent the needs of children. Furthermore, they are not 100% accurate because the recipes have not been professionally evaluated nor have they been evaluated by the U.S. FDA.
Thanks to supernanny Paula for beautiful execution of this longtime family favourite. It's been adapted so much from the original source I'm afraid I'm not sure who to credit for the original!