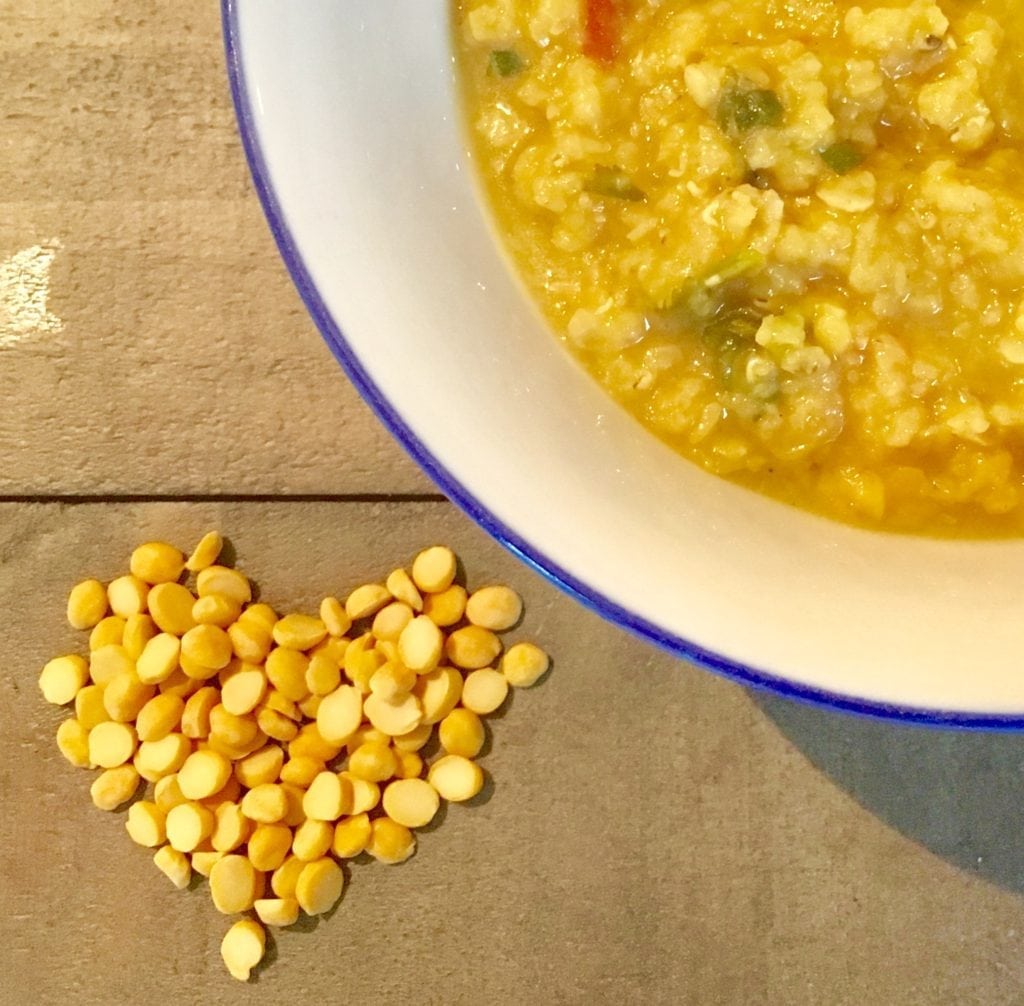 This Indian-inspired dal (or daal or dahl) soup hits the spot on a chilly day. It's fast, easy, flavourful, and very satisfying.  Go savoury! Serve with your choice of grains (either mixed together or on the side), and you've got yourself a 30-minute meal.
My son loves to eat it with whole grain bread or pita for dipping. The toddlers typically have it mixed with brown rice or quinoa. If you make it thicker, by scrimping on the water, you can slather it on toast with cherry tomatoes and cilantro on top.
Nutrition scores A+,  thanks to the nice balance of complex carbs and protein in the lentils, not to mention the impressive fiber and iron content.
Note: You may want to double the recipe to serve multiple adults and / or want leftovers.
Ingredients
Serves 4
1 cup lentils (red or yellow split lentils)
1/2 yellow onion, chopped
1 Tbsp canola oil (olive oil okay too)
2 vine tomatoes, chopped
3-4 cloves of garlic, minced
1/2-1 tsp each of cumin, garam masala, turmeric, and coriander. Optional curry leaf.
Fresh ginger, minced (approx 2 cm cube)
Cilantro to garnish. Consider lime as well.
Note: Don't stress if you can't find any garam masala – we made it once without and it was still very tasty (though not as authentic!).
Prep:
Dice onions and tomatoes, mince garlic.

Rinse lentils thoroughly in a colander
Directions:
 Pour lentils into a medium pot and cover lentils with 1-2 inches of water.  Add curry leaf if you have it. Bring to a boil, then reduce heat and simmer, stirring occasionally, for about 10 minutes. The lentils should be tender. Skim off any foam that forms on top of the lentils. Remove curry leaf if used.

While the lentils are cooking, heat the oil over medium heat in a medium pan. Saute the onion for a few minutes before adding the garlic, ginger and tomatoes and continuing to brown together.
Add the dry spices to the onion mix cumin, garam masala, turmeric, and coriander.
Add the spice and onion mix to the cooked lentils.
Season with salt and pepper. Garnish with cilantro and lime juice if desired.
Nutrition
Per  ~1 cup serving