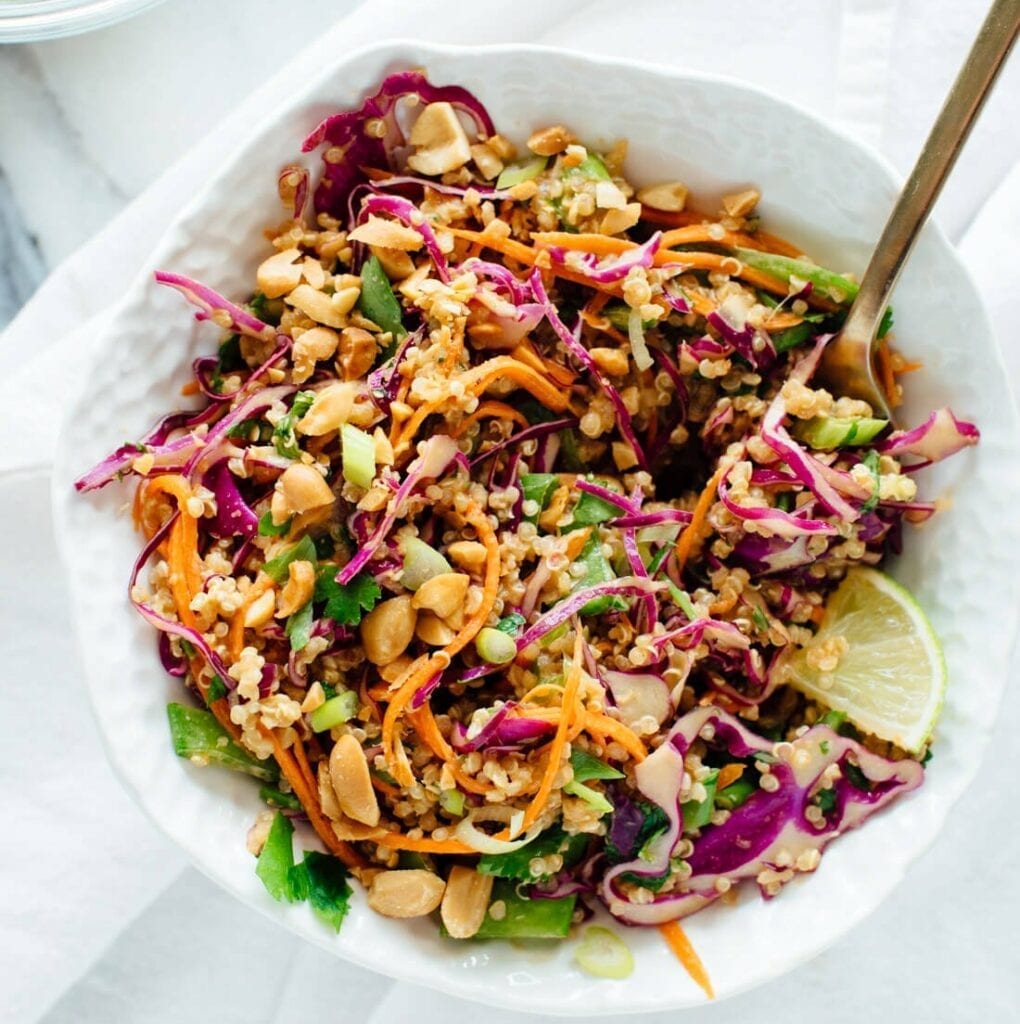 This Thai peanut salad serves up an explosion of colours, tastes, and textures, as well as a boatload of nutrients (fiber, protein, calcium, vitamins A / C.
Be sure not to scrimp on the luscious peanuts sauce – it's divine.
My kids surprised me by immediately embracing this salad, despite its sophisticated tangy flavour and ample purple cabbage.
Bonus: This is a budget-friendly recipe (thanks, Frugal Vegan cookbook!)
ingredients
Salad
¾ cup uncooked quinoa (or millet – we prefer quinoa)
1 ½ cups water
2 cups shredded purple cabbage
1 cup grated carrot
1 cup thinly sliced snow peas or sugar snap peas
½ cup chopped cilantro
¼ cup thinly sliced green onion
¼ cup chopped roasted and salted peanuts, for garnish
Peanut sauce
¼ cup smooth peanut butter (preferably unsalted, unsweetened)
3 tablespoons reduced-sodium tamari or soy sauce
1 tablespoon maple syrup
1 tablespoon rice vinegar
1 teaspoon toasted sesame oil
1-2 teaspoons grated fresh ginger
½ lime, juiced (about 1 ½ tablespoons)
Pinch of red pepper flakes
instructions
Cook the quinoa: First, rinse the quinoa in a fine mesh colander under running water. In a medium-sized pot, combine the rinsed quinoa and 1 ½ cups water. Bring the mixture to a gentle boil over medium heat, then reduce the heat to medium-low and gently simmer the quinoa until it has absorbed all of the water. Remove the quinoa from heat, cover the pot and let it rest for 5 minutes. Uncover the pot and fluff the quinoa with a fork. Set it aside to cool.
While grains are cooking, grate carrot and chop veggies (purple cabbage, snow peas, cilantro, green onion). Place in a large serving bowl.
Make the peanut sauce: Whisk together the peanut butter and tamari until smooth (if this is difficult, microwave the mixture for up to 30 seconds to loosen it up). Add the remaining ingredients and whisk until smooth. If the mixture seems too thick to toss into the salad, whisk in a bit of water to loosen it up (I didn't need to do this).
Pour the peanut sauce in to the veggie bowl and mix well. Taste, and if it doesn't taste quite amazing yet, add a pinch of salt and toss again. You can either add quinoa at this point to the whole batch, or add individually to suit preferences.
To serve, simply divide into individual bowls and garnish with chopped peanuts and perhaps a slice of lime.
Customize: You can dial up or down the heartiness factor by altering the amount of quinoa you mix with your veggies.
Storage: This salad keeps well, covered and refrigerated, for about 4 days. If you don't want your chopped peanuts to get soggy, store them separately from the rest and garnish just before serving.
nutrition
Per serving (one large bowl)
Salad with veggies & quinoa

Peanut sauce

The Percent Daily Values are based on a 2,000 calorie diet, so your values may change depending on your calorie needs. They may not be 100% accurate because the recipes have not been professionally evaluated nor have they been evaluated by the U.S. FDA. They often do not apply to children.
Credit
Thanks to The Frugal Vegan Cookbook for creating this amazing recipe; to Cookie & Kate for sharing it, and to our supernanny Paula for brilliant cooking!