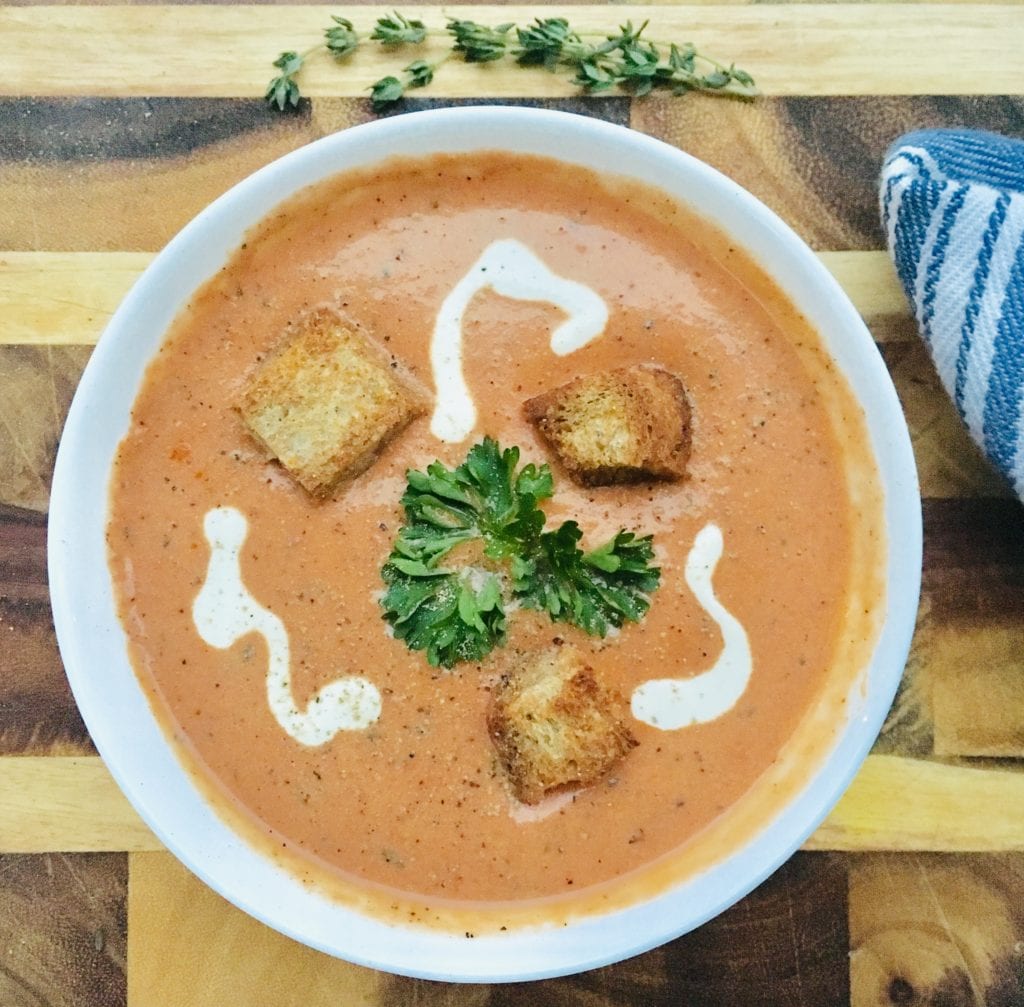 This tomato bisque is crowd-pleaser for vegans and omnivores of all ages. It's rich and bursting with flavour, thanks to the magic of fire roasted tomatoes and cashew cream. Yup, it's dairy-free and 100% plant-based.
It's also easy to make, with simple ingredients. The only ones you may need to work at finding are the canned roasted tomatoes and the raw cashews (and fresh herbs).
Despite its richness, it has a respectable nutrition scorecard and there's no "ugh, I overdid it" feeling afterwards, even after multiple servings. I would know! The only yellow flag nutritionally is the sodium, which you can mitigate with your choice of broth.
Since the soup itself is relatively light on calories, consider adding homemade whole wheat croutons. Pair with a hearty salad, perhaps a vegan caesar salad or a spinach strawberry balsamic salad with a generous sprinkling of chickpeas. Still hungry? Add a slice of toast with smashed white beans and sundried tomato or pesto.
Ingredients
Makes ~ 10 cups
3 Tbsp margerine (faves: Earth Balance original & Becel vegan)
1 onion, chopped
1 carrot, chopped
2 stalks celery, chopped
3 cloves garlic, smashed
2 Tbsp unbleached all-purpose flour
5 cups vegetable broth (fave: Better Than Bouillon, reduced sodium)
1 large (28oz) or 2 regular cans fire-roasted tomatoes, juice included (crushed best)
3/4 cup raw cashews
2 fresh thyme sprigs (leaves only)
1 bay leaf
1 Tbsp minced fresh parsley + more for garnish
Freshly ground black pepper (key!!)
*Optional: 2-3 slices of whole wheat bread for croutons
Prep
Soak the cashews with 1 cup of boiling water ( let sit while cooking)
Chop the onion, celery, carrot, peel and smash the garlic
Prepare vegetable stock if needed from paste or cubes
Cook
Place a large stockpot over medium heat. Sprinkle the bottom with a pinch of salt and heat for 1 minute. Add the margarine and stir until melted, being careful not to let it burn. This will create a nonstick effect. Add the onion, carrot, celery and garlic and cook for 10 minutes, stirring frequently. Sprinkle the flour over the vegetables and continue cooking and stirring for 2 minutes.
Add the stock, tomatoes with juice, parsley, thyme and bay leaf. Bring to a boil, then reduce heat and simmer for 30 minutes.
Prepare the cashew cream: blend the cashews in water until smooth. Add most of the cream to the pot but save some for serving if desired.
Continue to simmer (do not boil) for 10 minutes.
Remove the bay leaf then blend until smooth. Use hand blender or batches in tabletop blender.
Serve
Top with with desired garnishes. Fresh pepper is a must. We like parsley for colour, extra cream for artistry, and croutons for added 'oomph'!
Croutons (optional)
Preheat oven to 400 F.
Spray or brush a few pieces of bread with olive oil, then smear with garlic (powder or real deal) and herbs (oregano, thyme, rosemary work well).
Cut into cubes and bake for ~ 10 min, tossing midway.
Nutrition
Per 1 cup serving (no croutons)

Credits
Recipe from Tal Ronnen's Conscious Chef cookbook. We have adapted it only slightly.
Three cheers for supernanny Paula for perfect execution of the recipe, every time.
Thanks to Laura Leyson at Edibiliciousphotography for helping me snap an inviting photo!
–