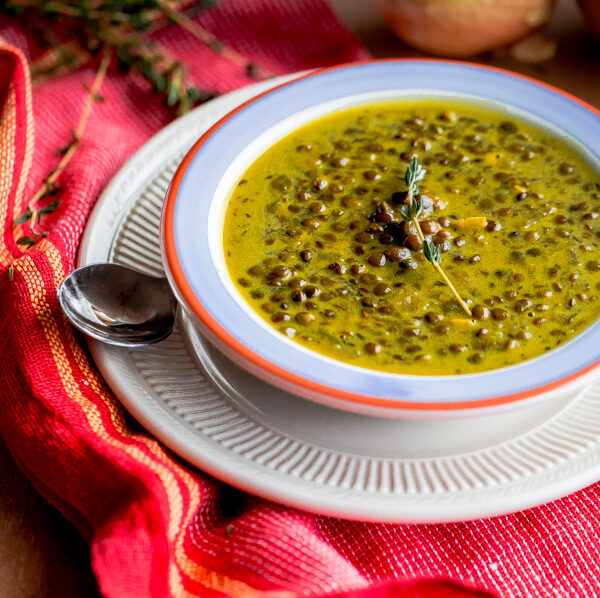 There is something magical about the combination of warming spices (cardamom, cloves, cinnamon, turmeric) and the richness of coconut milk. I've never met a lentil soup I didn't like, but this one truly deserves special mention.
This soup found its way into our tummies and our family recipe box thanks to my mom, who rivals me in her love of soups. We were both pleasantly surprised when all three of my kids embraced it. The same story soon unfolded across the Atlantic when my brother in Berlin served it to his little ones.
It's hearty enough to make for a full meal solo, but a thick slice of whole grain bread really rounds out the meal. For an even heartier version, thicken it by scrimping on the broth, and ladle atop rice.
Tip: To elevate this soup, and other spice-rich dishes, try grinding fresh herbs fresh in a coffee grinder.
Optional tweaks:
Replace half of the lentils with split peas
Boost your veggie intake further by adding carrot, celery, or other faves, then puree before serving.
Use margerine or butter instead of olive oil.
Ingredients
3 tbsp olive oil
1 large yellow onion
2 cloves garlic
1 tbsp fresh thyme
1 1/2 tsp turmeric (ground)
1/2 tsp cardamom (ground)
1/2 tsp cinnamon (ground)
1/2 tsp cloves (ground)
1/4 tsp nutmeg (ground)
6 cups vegetable broth (reduced sodium). We love Better than Bouillon concentrate
1 1/2 cups dry lentils. French green (de Puy) recommended.
1 cup, canned coconut milk full fat (or full can for even creamier…)
black pepper to taste
Optional toppings: fresh cilantro, a squeeze of lime, a chunk of avocado
Directions
Prep
Dice the onion into small pieces and mince the fresh garlic. Rinse the dried lentils and check for little stones.
If using cubes or concentrated broth, prepare it all in 1 cup of boiling water and set aside.
Cook
Warm the oil in a medium pot over low to medium heat. Add the garlic, onion and cook for a 5-8 mins to soften. The onion should start becoming translucent. Add the spices: fresh thyme (just the green bits!), turmeric, cardamom, cinnamon, cloves, nutmeg. Stir well to combine, and cook gently for a few mins more, until the spices are aromatic.
Add the lentils, followed by the broth / water. Bring to the boil, then reduce to a simmer for 25-30 mins until the lentils are tender but not mushy. Using a hand blender, pulse to thicken a bit.
Finish with full fat canned coconut milk; dialing up or down to suit your desired richness.
Serve
Add fresh ground pepper and any optional garnishes: avocado, lime or cilantro. My preschoolers enjoyed a bit of extra cashew cream to cut the soup further. Serve solo or over rice.
Nutrition
One small (1 cup) serving

Nutritional data should be viewed as rough estimates only. % Daily Values vary with age, weight, and other factors.

Credit
Photo and recipe from A Beautiful Plate.  Tweaked only slightly to veganize and healthify.