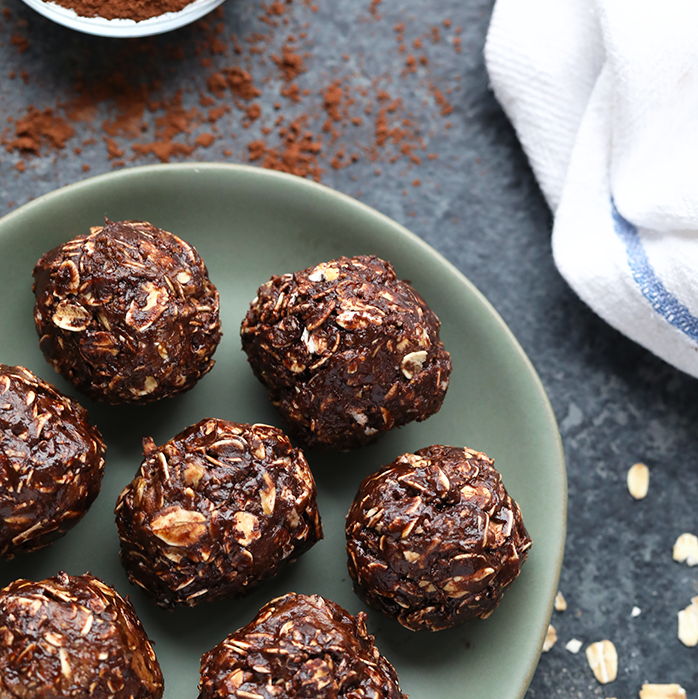 Ingredients
1 cup Oats
1 tsp Vanilla extract
1/2 cup Peanut butter (no sugar, no salt)
2 tbsp Cocoa powder (unsweetened)
3 tbsp Maple syrup
1/2 tsp Vanilla extract (optional)
Instructions
Scoop the peanut butter in a medium bowl. Be sure to get some of the oil as you do! Lick the spoon 🙂 
Add the cocoa powder, maple syrup, and vanilla (optional) then mix well.
Add the oats. Mix well again, until everything holds together.
Scoop about 1 generous Tbsp per ball. Massage into a ball, then place into a storage container.
Store in fridge (1 week) or freezer.
Notes
For a smoother texture, blend the oats first (though slightly higher glycemic index).
If they aren't sweet enough for your taste, add a bit more maple syrup.
Try it with pumpkin or sunflower seed butter for a nut-free school snack! 
Nutrition

Nutritional data should only be viewed as rough estimates. % Daily Values vary with age, weight, and other factors.
Credit
Photo and recipe (adapted) from Fit Foodie Finds . Our supernanny, Paula, and I teamed up to tweak it for our family.