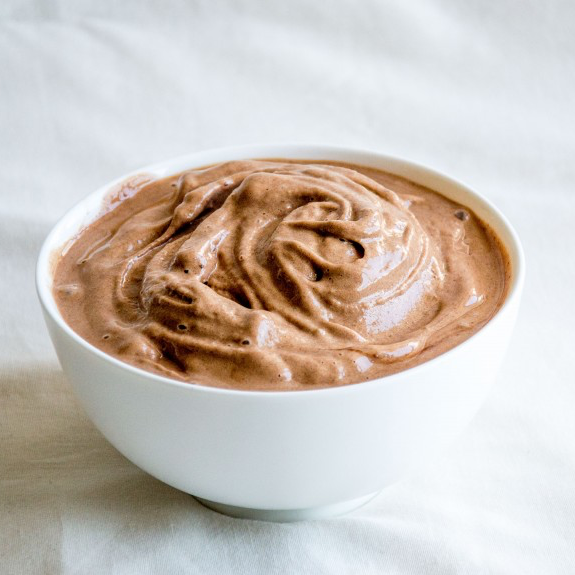 If you think the term "healthy treat" is an oxymoron, I challenge you to try this creamy, decadent "nice cream". Little kids and big kids will be fighting over the last bite!
It's not only spectacularly delicious, but also super simple to make, with only 4 ingredients. As long as you have bananas in your freezer, you can be licking the bowl (and the spatula) in under 10 minutes.
It's also dairy-free, with no added sugars thanks to the sweetness of banana (depending on your choice of milk).
The only "problem" is that it's so good that it can be addictive. For those who are trying not to overdo it on treats, even the healthy kind, a small batch may be a good solution.
For those of you interested in learning more about caffeine and kids, as well as which types of sugar are best and worst, check out my nerd notes below. Otherwise, skip ahead to the recipe.
Nerd Notes
Caffeine & Kids
Have you wondered whether or not it's safe for kids to consume caffeine? Here are some useful guidelines from Health Canada:

– Age 12 and under: no more than 2.5 milligrams of caffeine per kilogram of body weight
– Using this guideline, my 3.5 year old twins, who weigh about 15 kg (33 lbs) should not consume more than 37.5 mg per day.
An average cocoa powder has about 12 mg per Tbsp. Thus, each serving contains about 3 mg of caffeine.
My Bottom Line: I'm not going to sweat 3 mg in a serving of chocolate nice cream, but I steer clear of any caffeinated beverages – even many teas are in this ballpark.
Sugars – Which Ones Are Best and Worst?
The sugars in fruit still trigger your brain's "do it again" centers, and the added fat makes the signal even more powerful. The main reason sugars from whole fruits are healthier than added sugars (including honey and maple syrup) is because they come complexed with fiber, which helps slow their entry into your body, and dampens the blood glucose and insulin spikes that can be hard on your body.
To learn more about sugars, check out my article: Three Truths and a Lie About Sugars.
RECIPE
Ingredients
2 frozen bananas
2 Tbsp peanut butter (natural, no added sugar or salt)
1 Tbsp cocoa powder (unsweetened)
1/4 cup non-dairy milk (my kids like Silk original; I like Almond Breeze unsweetened)
Directions
Chop frozen banana into medium chunks and place in high-speed blender.
Add peanut butter, cocoa powder, and your fave milk to blender. Blend on high.
Use a spatula or other tool to poke banana down towards blade as needed. Add a splash more milk if needed but try to limit to keep your nice cream thick – otherwise you end up with a smoothie!
Serve immediately, or chill a bit to thicken up if needed
Options
Popsicles! Simply pour into popsicle molds and chill for a few hours.
Omit the nut butter if desired, but be warned the missing fat will dial down the lusciousness.
NUTRITION
Per toddler size serving (roughly 1/2 banana) using Silk original soy milk (lightly sweetened).

The Percent Daily Values are based on a 2,000 calorie diet, so your values may change depending on your calorie needs. They may not be 100% accurate because the recipes have not been professionally evaluated nor have they been evaluated by the U.S. FDA. They often do not apply to children.
Credit
Thank you to Plant-Based Juniors for the inspiration – this was her recipe for popsicles, but we have been enjoying it as "nice cream".