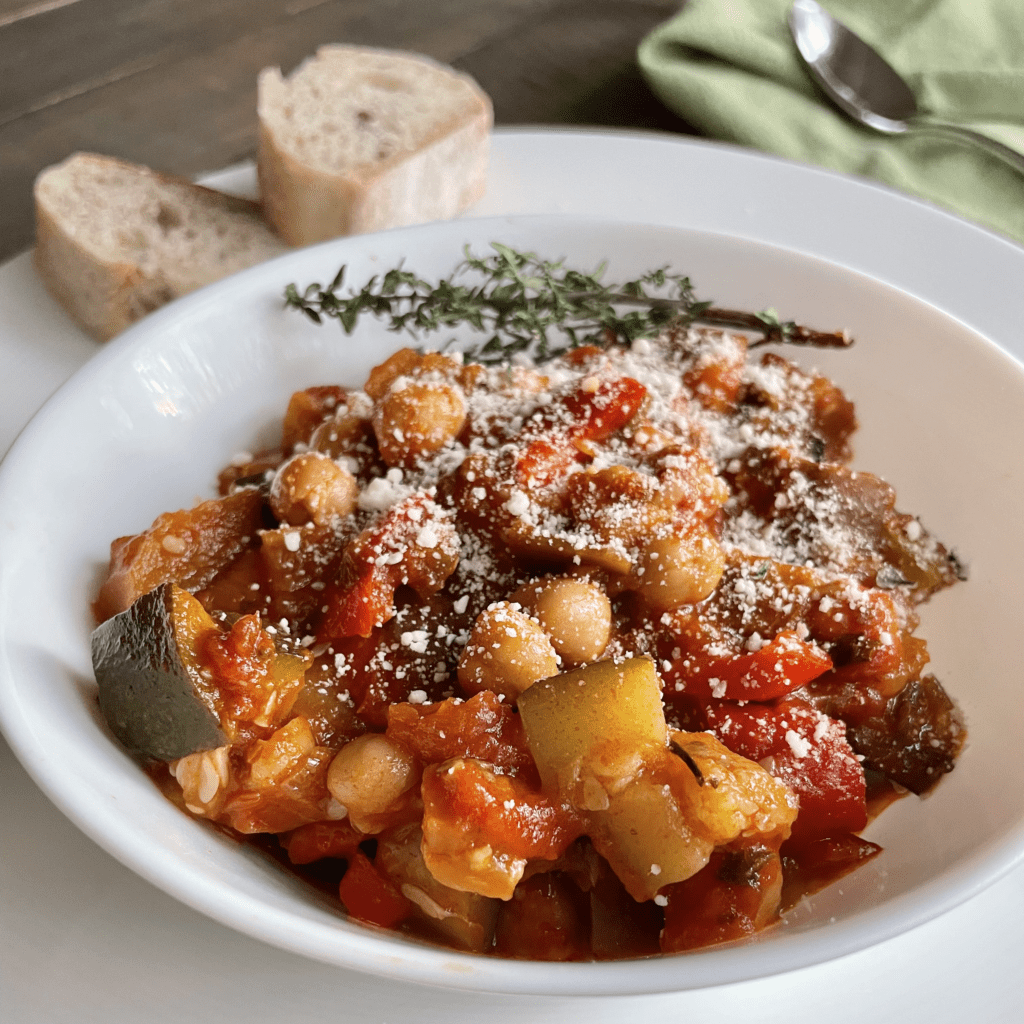 This chickpea ratatouille is sweet and earthy, with bursts of basil and thyme. This dish quickly became a regular in our fall rotation when I discovered that my hubby and kids enjoy it (almost) as much as I do, even though they don't typically get  very excited about zucchini, eggplant, and chickpeas.
 As I often say, healthy and delicious CAN go hand in hand. Don't let your preconceptions get in the way of trying this winner for the whole family.
More good news – this is a one pot meal that makes enough for fabulous lunch leftovers, even with enthusiastic eaters.
Try pairing it with a multigrain or whole grain bread and adding a sprinkle of something parm-ish on top.
Ingredients
- 3 Tbsp extra-virgin olive oil
- 3 cloves garlic, roughly chopped
- 1 large yellow onion, sliced
- 2 red bell peppers, seeded and diced
- 1-2 cups cherry tomatoes, halved, or other tomatoes, diced
- 3 cups (1 large jar) marinara sauce*
- 2 Japanese (purple) eggplants, diced
- 2 zucchini, diced
- 2 cups chickpeas (1 can, 540 ml)*
- 1/4 cup fresh basil, chopped (or 1 Tbsp dry)
- 6 sprigs fresh thyme (or 2 tsp dry)
- salt and pepper to taste

Optional toppings: 
- garnish with chopped fresh parsley
- sprinkle with something parm-ish**
* When shopping for canned tomato sauce and beans, pay attention to sodium. It can vary wildly. I like Italissima Tomato and Basil Sauce because it has only 130 mg sodium per half cup and tastes great. Of course, you can get even lower if you make your own sauces and beans from scratch.
** Vegan and dairy-free parm-ish options: I am a big fan of Earth Island Dairy Free Parmesan which even my dairy loving husband tolerates.  I also make my on vegan parm (aka pixie dust)based on a recipe from Minimalist Baker that uses cashews, nutritional yeast, salt and garlic. It's delish!
Instructions
Heat olive oil in a heavy-bottomed pot over medium heat; cook and stir garlic until very fragrant, about 1 minute. Reduce heat to low; stir onion and bell peppers into garlic. Cover pot and cook, stirring occasionally, until onion softens, about 5 minutes. Remove lid; cook and stir until liquid has evaporated and onion begins to brown, about 2 minutes.
Add fresh tomatoes to the pot; cover and simmer about 5 minutes. Add tomato sauce, eggplant, zucchini, chickpeas, basil, and thyme into tomato mixture; season with salt and pepper.
Cover pot with a lid; cook until vegetables are tender, about 40 minutes. Remove lid and simmer, uncovered, until thick, about 5 minutes. Adjust salt and pepper to taste.
Serve with a few sprigs of fresh parsley (optional) and / or a sprinkle of parm-ish topping (see ingredients for tips)
Credit
Recipe adapted from allrecipes.com in collaboration with our supernanny, Paula.
Nutrition
Per small ~ 1 cup serving

*Nutritional data should only be viewed as rough estimates. % Daily Values vary with age, weight, and other factors.