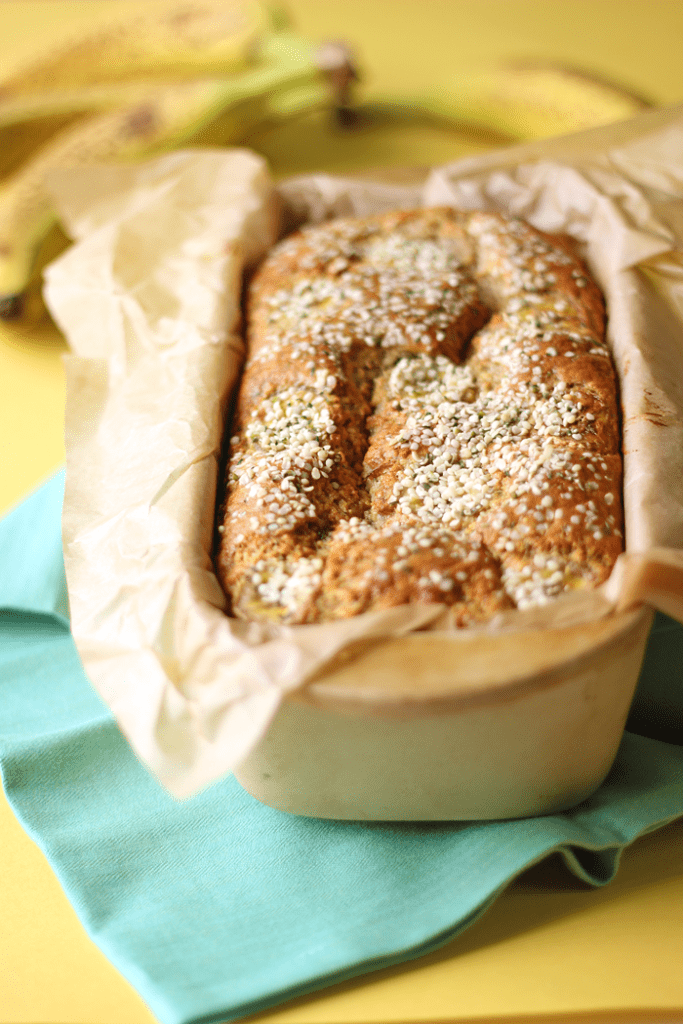 Here today, gone tomorrow…literally! This banana bread is moist, flavourful, satisfying, and beloved by the whole family. Plus, it's far healthier than your average sugar-rich, fiber-poor banana bread.
Whether it's as a recess snack (nut-free!) for my son, a second breakfast for my twins, or a tea party treat for Big Bear, this banana bread rises to the occasion. Is there such thing as a bad time for banana bread?!
Love muffins? This same recipe makes about a dozen muffins, and cuts the baking time down to only 18-20 minutes!
To dial up the nutrition, I used some of my standard tricks to modify a very solid start from Hummusapien (thank you!).
Use whole wheat flour instead of white flour (as much as you can get away with).
Cut the added sugars / sweeteners in half (no biggie when you have banana!)
Add a bit of unsweetened applesauce for extra moisture.
Replace chocolate chips with seeds, such as the hemp hearts in this recipe (or use both, as done by @urhealthnut ! Genius!)
Ingredients
1/4 cup, unsweetened non-dairy milk (We love unsweetened Almond Breeze Vanilla)
1 tsp apple cider vinegar
1 1/2 cups bananas (overripe) – 3 small or 2 large bananas
1/2 cup oil (we have been loving avocado oil but canola works too)
1 tsp vanilla extract
1/4 cup maple syrup
1/2 cup unsweetened apple sauce (optional but nice bonus)
2 cups whole wheat flour (ideally 'whole wheat pastry flour)
1 tsp baking soda
1/2 tsp salt
1/2 tsp cinnamon
5 Tbsp, hemp hearts
Optional: 1/3 cup dark chocolate chips or nuts (yum…walnut!)
Directions
Preheat oven to 350F. Prep your loaf pan – wipe or spray a bit of oil, or line with parchment paper.
Prepare "buttermilk". Place almond milk and apple cider vinegar in a small bowl. Stir and set aside.
Mix the wet ingredients in a large mixing bowl. Start by mashing the bananas well using a potato masher or fork. Add syrup, oil, and vanilla. Mix well. Add almond milk and mix again.
Mix the dry ingredients in a medium bowl. Add flour, baking soda, baking soda, salt, and cinnamon, then mix well. Add hemp hearts.
Pour the dry ingredients into the wet ingredient bowl. Stir until just barely combined. If using chocolate chips, add to partially mixed dough and fold well. Mix a bit more but don't overdo it.
Pour into loaf pan. Bake for a little over a hour. Check after 1 hour to see if a knife comes out clean. It may take another 10 min- 15 min.  If your loaf is browning before it's done, add tin foil on top. Muffins are much faster, closer to 20 minutes or less.
Let the loaf cool well before slicing.
Nutrition
Per generous slice. I tend to cut slices in half for my toddlers (though they inevitably ask for seconds…). I included hemp hearts but not chocolate chips or nuts.

The Percent Daily Values are based on a 2,000 calorie diet, so your values may be different depending on your calorie needs. They may not be 100% accurate because the recipes have not been professionally evaluated nor have they been evaluated by the U.S. FDA. They often do not apply to children.
Credit
Recipe adapted from Hummusapien Vegan Banana Bread (see original).
Huge thanks to our supernanny Paula who helped perfect this recipe and baked it along with her little helpers!