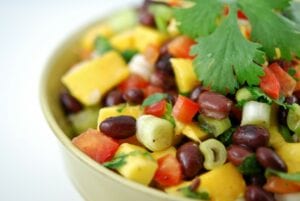 This mouthwatering black and orange "bumblebee" salad is a sweet and tangy crowd-pleaser that serves up fiber, protein and tons of vitamins.
.
Enjoy it as-is, mix in with greens, or scoop it up on tortilla chips.
Turn it from a side to a meal with a generous serving of quinoa.
INGREDIENTS
1 can (15oz) black beans
1 cup fresh mango
1 cup bell pepper (red, orange, yellow, or mix)
6 green onions
1/4 cup cilantro leaves
1/4 cup fresh lime juice
1 tablespoon olive oil
Optional heat: 1 jalapeno pepper, hot sauce, or salsa
Optional 'boosts': corn, avocado, fresh tomatoes
DIRECTIONS
Rinse beans well in colander.
Prep fresh fruits and veggies: Finely dice bell pepper and green onion; cube mango, roughly chop cilantro leaves and optional jalapeno if using
Prepare vinaigrette: mix together lime juice and olive oil (and hot sauce if using)
In a large bowl, combine rinsed beans, bell peppers, onion and cilantro and any optional ingredients (heat or 'boost'). Omit mango for now…it's delicate. Add vinaigrette and mix well.
Lightly salt to taste. Gently fold in the mango.
Adjust taste with more salt, lime, cilantro, or "heat" as desired.
NUTRITION
Per ~1 cup serving

The Percent Daily Values are based on a 2,000 calorie diet, so your values may change depending on your calorie needs. The values here may not be 100% accurate because the recipes have not been professionally evaluated nor have they been evaluated by the U.S. FDA. They often do not apply to children.
Recipe credit: Adapted from SpruceEats and Gonna Want Seconds. Inspired by supernanny, Paula.